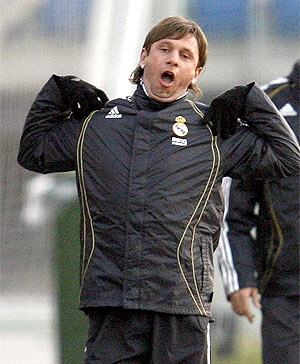 When Bernd Schuster picked the players that would attend Real Madrid's preseason training camp in Irdning (Austria), Antonio Cassano was conspicuous by his absence. Not that this was surprising, given his recent history at the club after his outburst against Capello last October. The club has been, unsuccessfully, looking for a way out for him ever since.

Who would want him in their squad? If even "sergeant major" Capello was unable to tame him, it is unlikely many coaches would welcome the headache. Cassano's talent is acknowledged by many, but it has always been overshadowed by temper tantrums, walkouts, insults, and the like. He is bad for morale, and he is bad for discipline. He even managed to get Diarra benched for a while with his comments about who Capello's favourites were. He ended the season having played a total of seven games and was nowhere to be seen when Real celebrated winning the league title.

So, while the rest of the squad is off to Austria, Cassano has been asked to continue training on his own in the sweltering Madrid heat. Whether this treatment constitutes an attempt by the club to force Cassano out and save themselves the 12 million euros that would be due to the player in salary over the remaining four years of his contract, may be the subject of court proceedings, if the latest news reports are to be believed. The player's entourage have denied this is their intention.

What next for Cassano? Real would probably let him go for free or next to nothing, after paying 5.5 million euros to Roma for his "services" in January 2006. Fiorentina are rumoured to be considering taking the challenge on. Less believable is the news that Inter is looking at swapping Cassano for a former Real Madrid player, Santiago Solari. Frankly, this sounds like a bit of wishful thinking from Marca. Solari was a good solid performer in his time at the Bernabéu and is fondly remembered by the fans. I just cannot see Inter needing to take on the headache of Cassano (especially given Ronaldo is still on their books!).