Tuesday, 10 March 2009
Previous Head-to-head Results


Competition
Date
Score
Champions League - Last 16
10-Mar-2009
Liverpool
4-0
Real Madrid
Champions League - Last 16
25-Feb-2009
Real Madrid
0-1
Liverpool
European Cup - Final
27-May-1981
Liverpool
1-0
Real Madrid
Continue reading this article »
Posted by Gonzalo at 23:09 5 comments  

Sunday, 8 March 2009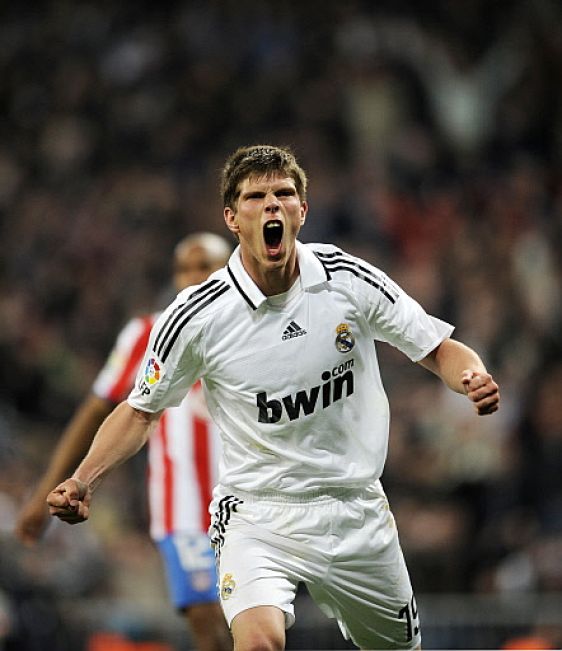 You have to go back to 1999 for the last time Atlético beat neighbours Real Madrid, and, on the evidence of last night's performance, they may well have to wait another ten years to do so.

Not that Atlético did not deserve to win; they did. But if they're going to waste that many opportunities to score, then it will be a long time before they can slay their particular bête noire.

Real can count themselves lucky that they were not three goals down at the break. Pepe's suspension for an accumulation of bookings, meant Juande Ramos had to rearrange his back four. The last time Pepe was missing, Real Madrid lost a league game, at Barcelona, and it looks like Juande made a couple of tactical mistakes.

His first, playing Lass as right back and putting Sergio Ramos alongside Cannavaro in the centre of defence unbalanced the side and showed why Lass's presence as a defensive midfielder is crucial to Real Madrid's success. Everyone knows Salgado is not my favourite defender, but when Juande rectified in the second half and brought him on, the difference was palpable. Surely he should have picked either Salgado or Torres at right back, or even Metzelder in the centre and Sergio Ramos in his usual spot?

The other tactical error was leaving Higuaín out of the side. Though the young Argentine has not scored for a few games, he does lead the side in assists in the league, and soon after coming on for Guti he provided Huntelaar with his equalising chance, though he was admittedly offside.

Atlético fans will not just rue the many missed chances by Agüero, Forlán and the rest, they can also point to a poor performance from the referee, who not only missed Real's offside goal, but also disallowed a perfectly good Atlético goal and wanted nothing to do with a penalty on Agüero.

Real, on the other hand, will pack their bags for Tuesday's game at Liverpool knowing that Pepe should be the rock at the centre of defence and hoping that their creative players can find that spark they so sorely needed on Saturday.
Continue reading this article »
Posted by Gonzalo at 20:06 4 comments  

Labels: Atlético, Huntelaar, Juande Ramos, Lassana Diarra, Ramos
Monday, 2 March 2009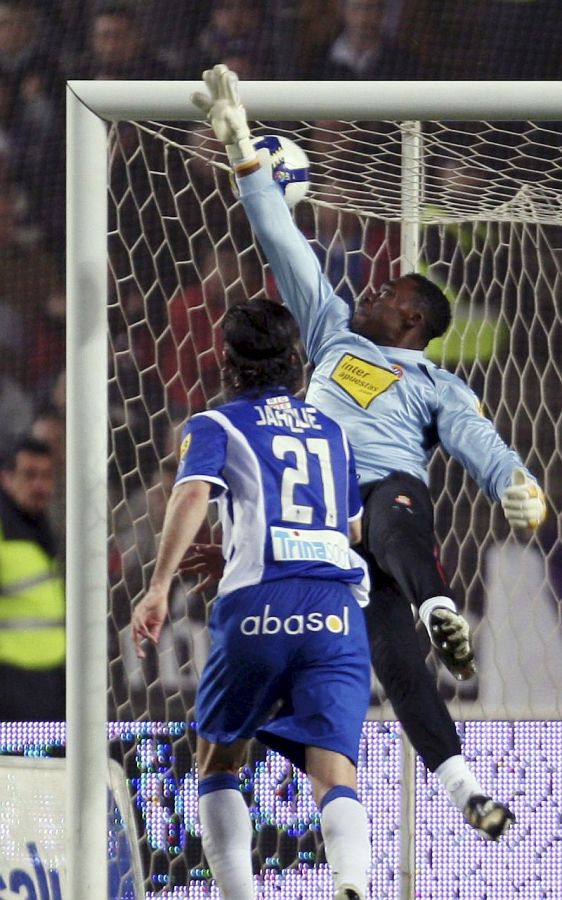 Real Madrid recorded their tenth consecutive league victory on an away trip to Espanyol. This result, combined with Barcelona's inability to hold onto a two-goal lead at Atlético Madrid the following evening, puts Real four points behind the leaders. It's hard to believe that this difference was twelve points a mere three weeks ago.

And yet, while much credit has to be given to Juande for turning the team around defensively (3 goals conceded in the last 11 matches), there is still much work to do to make Real Madrid the well-oiled machine in attack that the individual quality of its players would suggest.

The first half saw both sides "abuse" the midfield to the exclusion of both areas. Sneijder, who hasn't had the best of seasons, did not really perform well as playmaker, wasting innumerable passes to his colleagues up front, with Huntelaar looking especially isolated. Fortunately for the visitors, Lass swept up most of Espanyol's attacks, turning in another impressive display.

What Lass could not mop up, Pepe and Cannavaro did, with Casillas making the odd miraculous save that no longer gets headlines (he was much criticised early in the season for a few uncharacteristic mistakes).

Juande changed tack in the second half, bringing Guti in for the ineffectual Sneijder and Marcelo in for Higuaín to try to give the squad some balance and some width. Raúl tracked back to help out in midfield and the changes injected a little more urgency to Real's play.

Nevertheless, it was a whole 67 minutes before the deadlock was finally broken, as Guti was brought down outside the Espanyol area. The veteran Real Madrid midfielder, who recently announced he will leave the club in 2011 at the latest, slotted a perfect free kick into the top left hand corner of Espanyol's goal.

Five minutes later, Raúl effectively finished off the game as he timed his run perfectly to latch onto a half-mishit Marcelo cross and put the ball beyond goalkeeper Kameni.

As in midweek, the team who made the least number of errors won the game. Unlike then, this time that team was Real Madrid.
Continue reading this article »
Posted by Gonzalo at 18:35 2 comments  

Labels: Espanyol, Guti, Juande Ramos, Lassana Diarra, Raúl