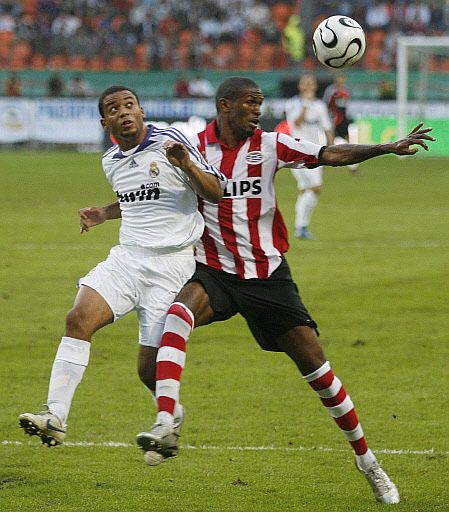 Rather than go into details about the two matches Real Madrid played in Moscow, I'll concentrate on a few of the things to take away from the performances we've seen in the preseason so far.

Results-wise, it's not been too bad (the exaggerated 3-0 scoreline against Hannover aside). All the teams faced so far are at least a couple of weeks further along in their preseason training than Real Madrid; this makes a big difference at this stage. In the case of Lokomotiv, they are actually half-way through their season (which must be worrying for them, given the 5-2 score, but then again, perhaps their attention was focused elsewhere). Also it's clear Schuster is moving all the pieces around to see how well they fit into his scheme. He clearly still has some work to do. Whether new signings will come in to supplement what's already there remains to be seen, the bleatings of the sports press notwithstanding.

Dudek showed off his impressive reflexes, although he could've done better in the second goal against PSV, but Casillas now knows he cannot rest on his laurels. I still see him as second-choice, though.

Metzelder has had a worrying lack of opportunities: he did not play against Hannover or PSV and only part of the game against Lokomotiv, where his performance was not up to par. Let's hope this is not the shape of things to come.

Pepe, on the other hand, is looking settled already and shows perhaps why Real paid so much money for him. However, if Cannavaro and Metzelder don't pull their socks up, Ramos may be joining him in the centre of defence, rather than on the right wing.

Twelve months on, there is still no replacement for Guti (not Gago or de la Red). Capello had similar troubles last season finding someone else with the creativity to open up defences and link up Real's midfield and forward lines.

Saviola got off the mark in both games, although the first came from the penalty spot. He's also been doing his set-piece homework, connecting with Guti's inch-perfect set-up from a free kick to score Real's only goal against PSV. However, Real are clearly still missing Van Nistelrooy up front.