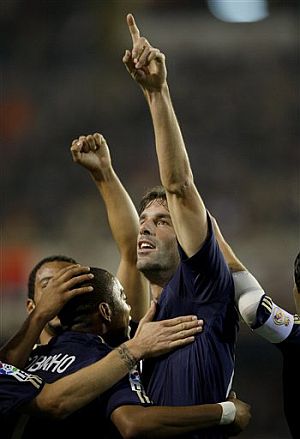 It's been many years since Valencia lost by such a margin of goals at home (1933, in fact), but then, it's been many years since Valencia played with a diamond formation in midfield and the defensive line pushed forward to contribute to attacking duties. They didn't play like that under Cúper, or Ranieri, or Benítez, or Quique. For years the Valencia side has been a byword for solidity in defence. Last night, interim coach Óscar Fernández was given a very public baptism of fire and a lesson in top flight football tactics. It wasn't an attacking formation designed to give the Mestalla public the kind of spectacle they'd been hoping to see, it was suicide.


Bernd Schuster must have been rubbing his hands in glee. Not only had Valencia lost their more than competent manager three days previously for reasons only Juan Soler, the Valencia president, can comprehend, he was also facing a Valencia side depleted by injuries and a rookie manager who had already made public how his side was going to play. Schuster therefore deployed his forces to make the most of Real's strengths and to exploit Valencia's weaknesses.

Diarra and Gago formed a double pivot in midfield, much as Capello did last season, except he used Emerson instead of the Argentine. Together they completely neutralised Valencia's most dangerous midfield player, Silva and reduced him to a defensive role, continuously fouling Guti to try to get the ball back. The difference with the Capello set-up was that Gago clearly feels more comfortable in this kind of arrangement and was a vital source of well played balls to the more forward positions. Guti had the space and time to put the ball where he wanted, which he did to devastating effect several times. Sneijder, on the bench again, was not missed.

Within 41 seconds of the start, Raúl had put the league leaders in front. Within half an hour, Valencia were 3-0 down with Van Nistelrooy humiliating former team-mate Helguera, who had a nightmare of a game, and deftly chipping over Hildebrand, followed by Sergio Ramos finding an impossible angle to score from. The Dutch number 9 added his second before the end of the half and Valencia's fate was sealed.

Real took their foot off the pedal after the restart but still Valencia looked completely lost on the pitch. It was sheer persistence by Joaquín, probably the home side's best player, which saw him beat Marcelo on the wing and cross for Angulo to put it past Casillas.

With his mind clearly on the Sevilla game on Saturday, Schuster decided to give some of his key players a rest, bringing on Baptista and Torres for Van Nistelrooy and Ramos respectively. He had earlier substituted Marcelo, bringing on Heinze, as the Brazilian youngster was on a yellow and looking like he might leave his side a man down. In the end it was Valencia who finished the game with ten men, as Albiol was sent off for bringing down Robinho when he was the last defender. It could have meant Robinho's second goal, as he had put Real's fifth goal up on the scoreboard shortly after the hour mark.

It made Schuster's comments the previous day, comparing Real Madrid with Roger Federer, seem a little less arrogant than they may at first have seemed: "I'm very happy because we are playing like a top side. We toy with our rivals and when we have to go up a gear, we do that and win games. I see Federer and he does the same thing. He toys with his rivals." It wasn't quite a tennis score, but it wasn't far off. Sevilla is unlikely to make the same tactical mistakes, but they are also a team in transition and followed up their 3-0 defeat of Valencia at the weekend with a 4-3 defeat at the hands of Atlético Madrid last night.