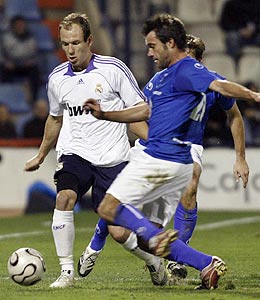 Real Madrid's second-string side failed to impress after being given a run-out in the competition that time forgot. Their opponents, Alicante, have never lost against the Madrid side, although their win in their only previous encounter, a friendly in 1956, is hardly the stuff of legends. A collection of the marginalised (Dudek, Drenthe, Soldado), the out-of-favour (Guti, Saviola, Salgado) and those coming back from injury (Metzelder, Heinze) did little to convince their manager to consider them for the upcoming Clásico at Barcelona.

The manager publicly defended his players, claiming in the face of all the evidence that Alicante's goal came from a "gift" penalty from the referee that should never have been given and that it's unfair to judge the players on this performance, as they were not used to playing together (there's no minnows any more, eh Bernd?). Schuster hinted that some of those who played today would also play on Sunday (Guti, perhaps?) but he said nothing about whether they would be starting.

In the end Balboa saved the team's blushes with a header off a corner kick in the last minute of the game. The return leg will be played at the Bernabéu on January 2nd.