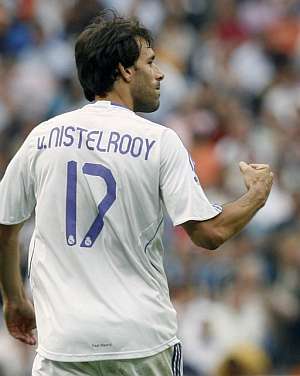 It was not a classic performance by any means, but there were some positives to take away from Sunday's 2-0 win over Recreativo de Huelva. Real started the game at a much higher tempo than we have been used to and Raúl had a header for the opener within 13 seconds of the start. Robben seems to have reached full match fitness and his speed is causing problems for defenders on the wings. Marcelo is improving with every game and with Heinze having an excellent performance at centre back, Schuster may be able to give Cannavaro a rest now Metzelder has recovered from his injury. Raúl continues to show that he is on form, particularly when linking up with Van Nistelrooy, though clearly not enough for Luis Aragonés to recall him to the national side, and Casillas was largely responsible once again for the team having their fourth clean sheet in the league this season.

However, not all the pieces are clicking seamlessly together. There is still a large gulf between the defence and the midfield, and the team is vulnerable to fast counters, which teams more effective than Recreativo might have capitalised on. Guti and Sneijder are still not making the link to the forwards with enough consistency to allow Real to derive benefit from their possession and put games away quickly. Raúl and Van Nistelrooy were left chasing shadows for most of the first half. It is only when the opposing teams begin to tire that Real Madrid seems to strike, as all but three of Real's sixteen current league goals have been scored in the second half. But this only works if you can stop them from scoring against you.

Rud opened the scoring after 72 minutes in typical predatory fashion, after an inch-perfect through ball from Raúl. Though he missed a similar chance in the first half, Van the man now has 16 goals in the last 18 league games and it is no surprise the club is reportedly looking to extend his contract to 2010. Higuaín finally managed to score again, as the clock was running down and kept the chasing pack at bay, especially a Messi-led Barcelona, who have been impressing all and sundry in recent weeks after a bit of a shaky start to the season. International fixtures over the next 10 days mean that we have two weeks to wait until the next league encounter, away against the in-form Espanyol.