Fabio Capello, who, since leaving Real Madrid, has taken up a post commentating for Italian state TV channel RAI, did not mince his words last night, as he analysed the Lazio-Real game. Interestingly, this has been picked up by the Spanish press from different perspectives, depending on who you read. Most highlight the fact that Capello thinks Real Madrid are still a team which "lacks identity". As, not my favourite publication, as those of you who read this blog regularly know, is one of the few who spins his comments positively, focusing on the fact that he thinks the current squad has more speed and quality than the one he managed. Here are a selection of quotes, some insightful, some seemingly contradictory:


"I've known few players as good as Raúl in the area, where he moves like a fish in water"

"[Last season's squad] was extraordinary, full of talent, that at any time could create opportunities. The current squad still has no identity, although Schuster is trying to give it one"

"I'm surprised Guti's on the right, it's not his best position, he's not comfortable marking players. Also, Diarra is a little isolated in front of the defence. He's getting very little help."

"Real are having trouble with Lazio's fast strikers, but both Heinze and Cannavaro are coping well. Also Marcelo, who is very good, but lacks experience in these high tension international games"

"The current squad is clearly faster and more talented than what I had to work with last season"

"Right now I'd love to be on the bench coaching Real"

After the game: "The galáctico Madrid had a lot of talent and personality. I coached them at the end of this phase, where Roberto Carlos, Beckham and Ronaldo still played. Today's squad has lost some of that personality. The truth is that Robben has shown himself to be very dangerous when given space. Guti is still at the centre of everything and, in general, Real can score a goal while doing very little, as ever. Once again van Nistelrooy has been crucial..."

"Fabio [Cannavaro] is in great shape, he knows all the tricks of the trade; Real have been lucky to have him there tonight. Ramos is an extraordinary professional with great qualities, full of class"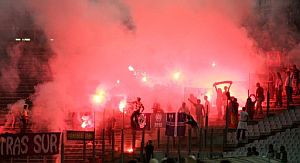 Three members of Real Madrid's infamous Ultrasur radical supporters group were arrested in Rome last night after causing trouble and setting off fireworks at the end of the game. Once again, the actions of these brainless morons may push UEFA to fine the club.