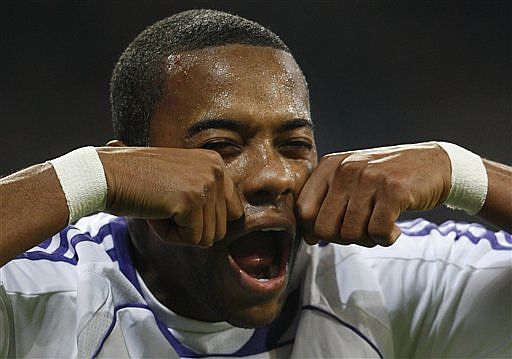 ...and Zaragoza did not score on the rebound. Casillas spared his side from a potentially embarrassing defeat by saving at least 10 shots on goal by Zaragoza. His providential reflexes (and the woodwork) kept Real in the game long enough to enable the clinical finishing of first Van Nistelrooy and second Robinho, to put paid to Zaragoza with two goals from the three chances Madrid had all night. This result keeps the Madrid side seven points clear at the top of the table.

Casillas also notched up his 300th league appearance for Real Madrid and beat his own record for keeping his goal intact in league games; this now stands at 378 minutes and includes 4 consecutive clean sheets.

Only 16 minutes into the game, Heinze suffered a strain on his left thigh (later confirmed to be a tear, sidelining him for 6-8 weeks). Schuster partially blamed his side's "loss of focus" on the injury to the left back, which supposedly allowed Zaragoza to dominate for large swathes of the match. As is ever the case with Bernd, he does not tend to criticise his players in public and comes up with ludicrous reasons/excuses for their performance. The former is a good thing; the latter is an insult to everyone else's intelligence. Schuster also had some words of praise for his keeper, calling him "the best in the world". This makes an interesting contrast to Capello, who always emphasised the team's performance rather than Casillas's, preferring to dwell on Real's defensive frailties instead.

Zaragoza's strike force of Oliveira, Sergio García (no, not the golfer) and Diego Milito terrorised Real's defence (Sergio Ramos moved from the right to partner Cannavaro in the centre of defence, and he did not look comfortable all game) but could not get past Casillas. Their lack of luck or effectiveness in front of goal was to cost them dear as Schuster brought on Guti for an ineffectual Sneijder. Twenty minutes later, Real were two up and the game was all but over.

Diarra had a poor game and probably had his mind on joining his national side in the African Cup of Nations competition in Ghana. The Mali captain will be away at least all of January, as the group stages finish on the 19th. If his side reaches the final, he could be off until February 10th. Given Real's January schedule, this could prove problematic, as neither Gago nor Guti fill the same role as Diarra.