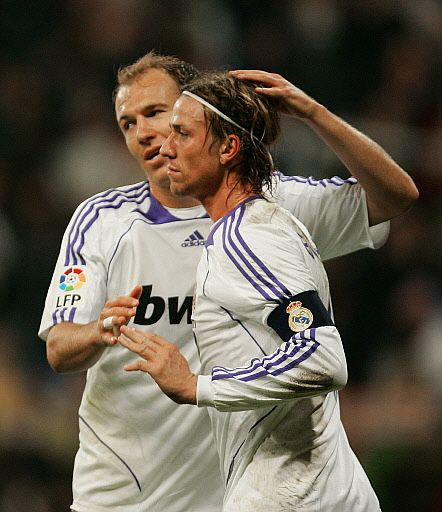 A last-gasp goal by Guti spared Real Madrid's blushes and prevented the indignity of extra time at the Bernabéu against a side currently playing two divisions lower. In a devalued competition where the odds are stacked in favour of the bigger sides with the return legs of ties being staged on their turf, there are question marks about the depth of Real Madrid's squad.

Coming so soon after certain triumphalist statements in the press about aiming for the "treble" (League, Cup and Champions League), it highlights that one good game does not make a season, and one bad game can help ruin it. This is not the same side that played against Barcelona. It featured precious few of the same players. As in the first leg in Alicante, Schuster provided an opportunity to some of those players getting less minutes in the league to show that they are a valid alternative to the starting eleven. Given their performances at Madrid and Alicante, the manager will have to reconsider if he truly wants to give this competition a chance.

The headlines should have all been about Arjen Robben's first goal for Real Madrid. His technical qualities have been overshadowed by his physical fragility and he has been threatening to turn into an expensive mistake on the scale of Jonathan Woodgate (whose time at Middlesbrough has been recently hampered by mysterious bouts of cramp). The goal came from a delicate chip from Higuaín over a defender to set up Robben for a good finish.

Instead, it was a catalogue of missed opportunities (Soldado was clearly trying too hard to impress; we know he can put those kinds of chances away) and a lack of commitment and focus once they'd scored, that allowed Alicante to fight their way back into a game they should never have had a hope of winning. The usual headlong rush in the last half-hour to get a winner almost let the visitors maintain their hitherto unbeaten record against Real Madrid, but Guti's touch of class 10 seconds from extra time served to paper over the cracks. As would have you believe that the reserves did their job well. It must be said that a couple (Balboa, Higuaín) had decent performances, but, as for the rest... well, As must have been watching a different game.

The draw for the next two rounds is on Friday [Update: Real will face Mallorca, first away and then at home], and the ties will be played in mid-week for the next 4 weeks to determine the semi-finalists before January is out. The treble is on... but only just.