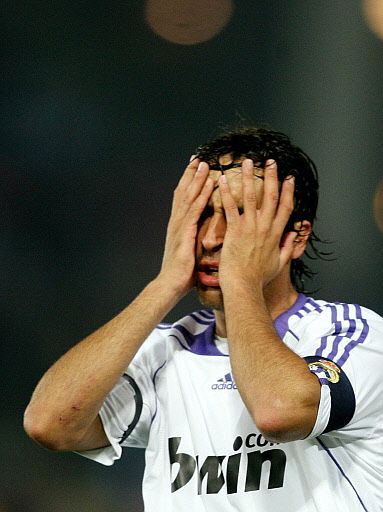 Schuster called Real's 2-0 defeat at Almería, the first after 8 straight league wins, "the best time to lose". Following days and weeks of triumphalist reporting by some sectors of the Spanish sports press (you know who they are), with the championship "in the bag" according to some, it is perhaps a welcome return to earth for those surrounding the team.

Because,to be fair, neither the Real supremo, Schuster, nor any of the players have made any such statements. They have been content to keep trotting out the old clichés about there being a long way to go and nothing being decided yet. All well and good, though I suspect that there may have been a certain amount of private complacency; given recent results, it's probably only human. That 9-point lead may be reduced to a "mere" 6 by the end of Sunday, when Barça play Osasuna, though the pressure is now on the following teams to take advantage of Real's stumble.

Having spent most of the week rehearshing defending against set plays, it was ironic that Almería's first goal came from a free kick, and the second from a penalty. A deserved result nonetheless for the recently promoted side and their coach, Unay Emery, who took the measure of Schuster's men and made them look decidedly ordinary. The one item of bad news was Ruud's van Nistelrooy's ankle injury at the end of the first half, the extent of which is still not known. The team definitely lose effectiveness up front without the Dutchman. Why Schuster decided to bring on Higuaín, who despite his clear talent is not a 'number 9', instead of Soldado, is anyone's guess.