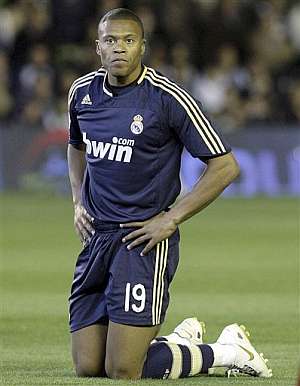 Did I say it was nearly sown up? Well, it looks like some of the stitches have begun to unpick, as an eight-point lead, which could in theory have increased to eleven, was reduced to a "mere" five points by Betis. And I say "mere" because the mindset that makes you have a winning or a losing attitude is a fragile thing. Just think back to Barcelona's slow but inexorable descent last season that gifted the league title to Real Madrid. There were twists and turns and a hundred times it could have gone the other way, but there was a palpable belief that Capello's men would eventually do it, like a tale with only one possible ending. And that belief wasn't reserved for the players from the capital, it permeated the opposition's thoughts as well.

One can only hope that the second away loss in a row is a temporary setback and that normal service can be resumed next week at home to Getafe. However, there is the small matter of a visit to the Olimpico in Rome as the Champions League enters the knock-out stages, bringing us football twice a week. Perhaps minds were more focused on that upcoming game than on Betis, and a certain amount of complacency following the 7-0 drubbing of Valladolid. Curiously, Real's last big away win (5-1 in Valencia) was followed by defeat in Sevilla, to the city's other Primera División side. In his excellent weekly column, Phil Ball argues that it is all a question of desire, and harks back to the age of Di Stefano, the first 'total' footballer, who was literally "hungry" for success. Di Stefano was honoured by the club and UEFA this weekend; that other elegant midfielder, Michel Platini, now UEFA president, awarded him the President's Award and called him "a great among greats").

The game started promisingly, with Drenthe opening the scoring for the visitors inside 10 minutes. But, despite having most of the possession, it was the flanks that gave Betis a way through time and again to threaten Casillas' goal. I have argued several times that Michel Salgado is no longer good enough to play at this level and he and his inflated salary should be put out to pasture. Marcelo, while he looks dangerous going forward, has many deficiencies at the back and does not have the speed of Roberto Carlos to make up for it. Betis exploited the wings to perfection in both their goals. To be fair, Schuster has had injury worries in the centre of defence to deal with, which is why Sergio Ramos had to play alongside Cannavaro, but that merely illustrates that there is not enough strength in depth in certain positions, especially at left back. He has said he may have to risk Heinze in Rome, which says little for his confidence in Marcelo. Real clearly missed Robinho; in the mdifield, Baptista and Gago were poor and the team were not as effective up front as of late, with Van Nistelrooy hitting the post in their only clear goal chance in the second half.

Some capital will be made by the Madrid press about Barcelona's late win at Zaragoza coming from a doubtful penalty award, but this sort of thing evens out throughout the season, and one has to remember that Zaragoza missed their own penalty. Excuses count for nothing; to win, you must maintain focus each and every week. At least there won't be many cries asking for Raúl and Guti to be called up to the national side this week. Thank heavens for small mercies.