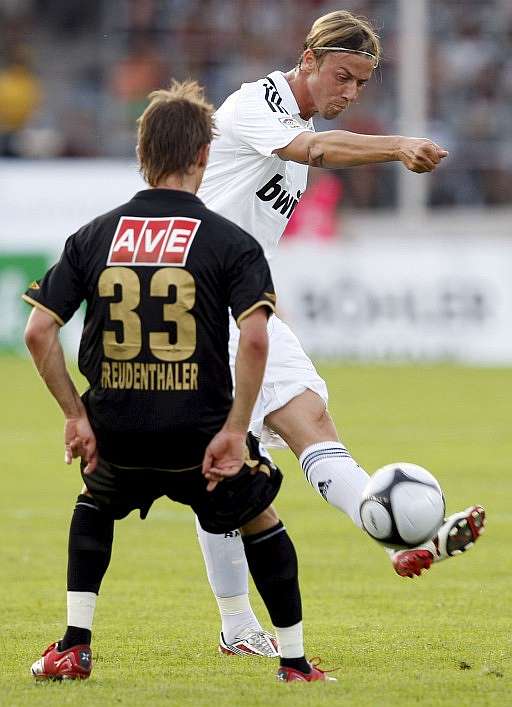 After a week of intensive training in Irdning, Real Madrid had their first (semi)competitive match of the preseason against Austrian opponents. LASK Linz currently leads the Austrian first division with three wins out of four, and are therefore significantly more match fit than the Spanish side. The game, which ended 3-2 to Real (with goals from Baptista, Raúl and Saviola) revealed little about what we may expect this season, but a few clues could be gleaned here and there.

The first thing to note is the makeshift nature of the defence. Casillas and Ramos are still on holiday after Euro 2008, Cannavaro is still recovering from his ankle injury and Pepe picked up a knock in training this week. Schuster therefore started with Dudek in goal, Salgado as right back, Heinze and Javi García in the centre, and Torres at left back. Javi García, recently bought back from Osasuna, has played in defence before, but his preferred position is in midfield, and his inexperience, and lack of understanding with his team-mates, showed when Saurer got the better of him to score after 13 minutes. He was also responsible for the penalty in injury time, which saw LASK narrow the gap.

Robben was without doubt Real's most in-form player. Physically he has been excelling in training all week, together with Diarra. During the game his runs into space and pinpoint crosses resulted in Real's first two goals. He linked well with Guti, who was not put under any particular pressure and thus had plenty of time to pick his passes. The Spaniard was ably replaced in the second half by Dani Parejo, one of the four Castilla players Schuster has taken with him to Austria. Two of the other three, Callejón and Antón, also got a run-out. The likelihood of any of them getting any playing time with the first team this season is very low, though it depends on any movements Real makes in the transfer market. Parejo, though, at least made good use of his 25 minutes on the pitch and provided the pass for Saviola to score Real's eventual winner.