Regular readers of this blog will know that I'm not fond of conspiracy theories (for my previous 'rant' on this issue, see the recent article and comments on Raúl). The latest one comes straight from the heart of Real Madrid Towers and revolves around dodgy refereeing decisions.

Pedja 'Brylcreem' Mijatovic left little of his state of mind (such as it is) to the imagination with statements like "we are worried. It's too easy to rule against Real. If in doubt they rule against and that cannot be". Even Schuster got in on the act during his post-match press conference saying he "shared Mijatovic's worries".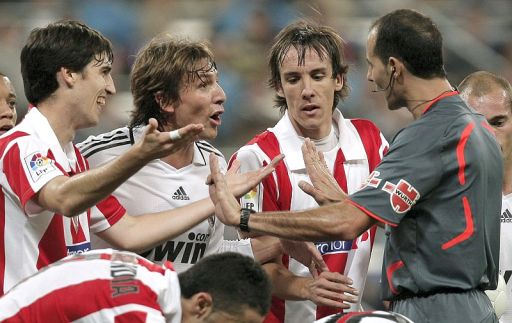 Are they at all justified? It's true to say that the referee in the Madrid derby last week was truly appalling, a particularly poor example of a particularly poor breed. Goals were disallowed, penalties awarded and players sent off, much like in this Sunday's game against Athletic.

The thing is, the facts just do not stack up; some decisions went against Real and some benefited them. Higuaín's disallowed goal last night was not offside and Heinze's penalty was more than doubtful. However, Marcelo should have seen red, not yellow, for his horrific tackle on Etxeberria on the stroke of half-time. And Real Madrid won the game, like last week.

Refereeing conspiracy theories have been the bread and butter of the Spanish sports press for decades - probably since the first ball was ever kicked between two sides. Alfredo Relaño in As for instance, has been claiming for years that the Spanish Federation, and Villar, its president, are at the core of a monstrous attempt to pervert the course of Spanish football by favouring Barcelona over Real Madrid.

There are supposedly no direct instructions (of course not, these would be too easy to disprove). Instead, referees who see things 'the right way' are allegedly rewarded with Cup finals and international appointments, and those who don't are relegated to obscurity. In other words, a triumph of insinuative rather than the investigative journalism they should be doing if they really though there was this level of corruption at the heart of the game.

Now, for a conspiracy to prosper, you need a couple of things: as few parties as possible must be involved and they must all be able to keep a secret... for ever. Call me naïve, but the general level of competence of the federation and its lackeys does not inspire me with a great deal of confidence in their chances of keeping a secret for longer than 24 hours, on a Tuesday, in July, when they're all home with the 'flu. Plus, the level of discretion displayed by the average club director is such that they could just not keep it to themselves if they'd somehow managed to put one over the opposition.

But the funny thing is, the papers this time are taking a different tack. Uncharacteristically for Marca, they have published an "analysis" that seeks to show that controversial refereeing decisions have been both for and against Real and that in no case have they had an influence in the result of the game (at least against Real Madrid), given that they have won all those games.

The Barcelona manager, Pep Guardiola, has taken the high ground that Real Madrid should aspire to occupy by saying that neither club should complain about the referees. "Seriously, these things work themselves out in the long term. We sportsmen have an obligation to behave ourselves. The referees do the best they can and that's the end of it". Let's hope that he continues to keep his composure, as neither Mijatovic nor Schuster seem to be able to do so. Perhaps they should also take note of the Athletic manager who said ironically "how hard it is to know how to win" after the game.

Another one who has recently joined the ranks of the moaners is Sergio Ramos. Following his midweek outburst saying that his recent poor performances are due to the fact that he gets little support on his wing, Bernd Schuster decided to leave him out of the squad and play Michel Salgado in his stead. "To be honest", said Ramos "I'm not happy playing right now. Before I had help on the right wing from Beckham and others and that helped a lot. Nowadays I feel very alone on the wing and it looks like I get the blame for all the mistakes". Though Schuster claimed that the change was for "rest and rotation" reasons, he also pointedly avoided making any comment on Ramos's statements, even after being repeatedly questioned about it just before the game.