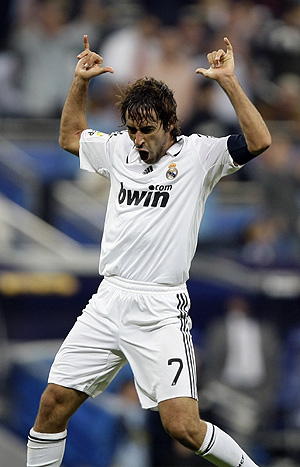 Espanyol put paid to Real Madrid's run of six consecutive victories in September and stole a point from the Bernabéu. The Barcelona club won the battle in midfield and frustrated most Real Madrid attacks with solid defensive work.

For their part, the Real Madrid back four did not have their best night. Heinze's clumsy challenge on Espanyol captain Raúl Tamudo resulted in a penalty, which Tamudo then expertly put away for Espanyol's first.


The lack of width in the Real Madrid midfield probably persuaded Sergio Ramos to join in the attack. His beautifully weighted cross was met by Raúl as he broke away from his marker. The captain has clearly benefited from being rested in midweek and is clearly most comfortable playing at home.

The equaliser did not seem to give Real Madrid any additional impetus. Poor defending from Heinze allowed Román Martínez to get the ball across Casillas' goal for Luis Garcia to put the Catalans ahead once more.


Deep in injury time in the first half, Raúl came once again to the rescue. The Real Madrid captain showed a clever bit of skill, taking advantage of a muddle in the Espanyol area to shift the ball quickly between his feet and put the ball beyond keeper Kameni. This makes a total of 16 goals that Raúl has scored against Espanyol in the Spanish league. Together with Valencia, Espanyol is the club that Raúl has scored most goals against.

The second half gave us more of the same, and, although Schuster brought Robben on for Van der Vaart to give his side some much needed width, the Dutchman only lasted 20 minutes before limping off with a pulled hamstring (though on Monday it was reported to be unlikely to be serious). Wesley Sneijder returned briefly from his preseason injury, but is clearly not yet fully match fit.


There were possible penalties at either end, and Van Nistelrooy could have grabbed a winner, but Kameni's reflexes saved his side. Diarra has been getting progressively better and was probably Real's best player in midfield. On the other hand, the Real Madrid forwards, other than Raúl, showed none of the accuracy which has been characterising the side in recent games. Higuaín was especially selfish, shooting several times from outside the box with little danger.

With the draw, Real Madrid drops to fifth in the table, just behind Barcelona on goal difference, who clearly stated their intentions this season with a thumping 6-1 demolition of Liga hopefuls Atlético Madrid (Real's next opponents on October 18th).