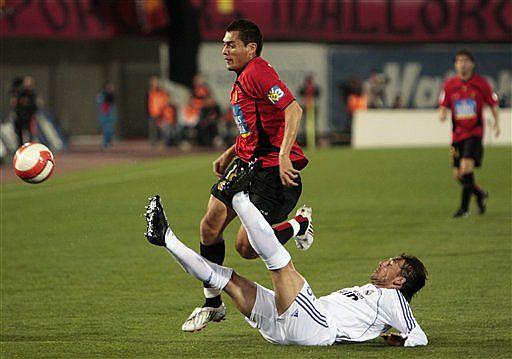 Mallorca, the team responsible for dumping Real out of the first of three competitions this season, caused motormouth president Calderón to ask for help from on high (presumably the Spanish Federation and referees are not trustworthy enough): "I am afraid of all our opponents. It's very hard to win in Mallorca an I'm very happy with the draw because this point could prove to be very important at the end of the season. I hope that Divine Providence goes easy on me this year".

What he didn't know of course, as Real played on Saturday, is that both Villareal and Barcelona would drop points the following day (losing and drawing respectively), so that Real's lead is now seven points with seven games to go. Mallorca were invoking more earthly reasons for the result, and criticised referee Daudén Ibáñez heavily for a disallowed goal (blowing for a dubious foul just before the goal was scored) and a dismissed penalty appeal for Cannavaro's handling of the ball in Real's area (though this looked to be involuntary).

Real are themselves not altogether that keen on the referee's performance, as Mallorca's equaliser found them with 10 men on the pitch following Sergio Ramos' third dismissal of the season in the league (he's also seen red once in the Champions League). As of the time of writing this, the club are appealing Ramos' second yellow card (with some justification, having seen the replays), which, if successful, would mean the right back would miss the next home game against Murcia, as he was on 4 yellows before the game, and his first booking took him up to the automatic one-match ban limit. If the appeal is not successful, Ramos will still miss the Murcia game and continue to be one card away from a further suspension. Ramos claims that referees seem to have it in for him (much as Cannavaro complained last season), but his frequent dismissals have caused at least one Real Madrid blogger to call for his sale to Milan and to buy Sevilla's Dani Alves with the proceeds.

Schuster must however also face some criticism with his incomprehensible reaction to Ramos' red card. Instead of bringing on the natural replacement of Torres, he substituted Higuaín for Diarra, making the latter play at right back. It was the lack of cover on the right flank that was directly responsible for Mallorca's equaliser. Things could have turned out even worse had it not been for Heinze's excellent work at the back. The Argentine is likely to keep his place, either in the centre or at left back, when Pepe makes his return.

While Sneijder's goal was a simple tap-in after Robben had done all the hard work, it is becoming clear that Real are struggling to score without Ruud van Nistelrooy in the side. Raúl is keeping the numbers up, but he was mostly absent in Mallorca, much like Guti. Higuaín is not a natural striker and misses more chances than not, but as, an article in El País claims that he was signed as a promising 19-year old, not a seasoned veteran, and he has received little in the way of technical direction from the coach. Schuster does not give him any more attention than the other forwards in the squad, which perhaps does not augur well for all the other youngsters (e.g. Marcelo) that the club is hoping to build the next generation from.