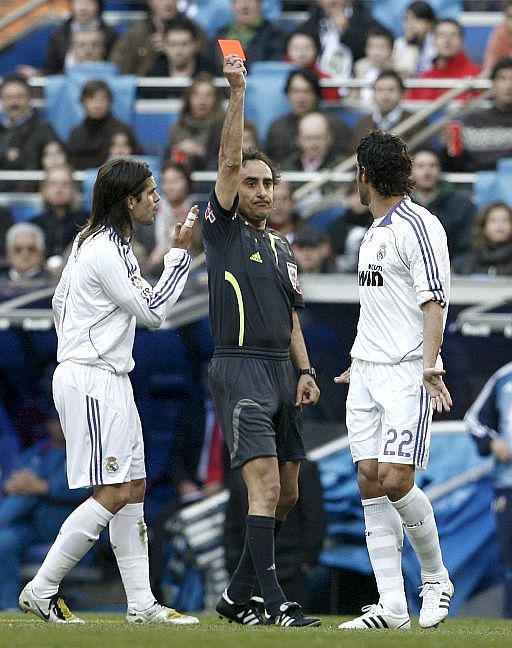 Former Spain coach Javier Clemente made his intentions clear prior to Murcia's visit to the Bernabéu on Sunday: they were going to "park the bus" in front of their goal and hope this was enough to keep Real out. While few would argue that second from bottom Murcia did not truly expect to win in Madrid, it is perhaps not the best strategy for a team facing relegation. Clemente set out his stall with what looked like a 7-2-1 formation at times and did not change it even when Torres was sent off for a terrifying challenge on Aquino which left Real with 10 men for the best part of 70 minutes.

Refereeing blunders aside (apart from the sending-off, Iturralde González did not cover himself in glory, waving away several possible penalty decisions for either side), Real with 10 were better than Murcia with 11, but it still took about 40 minutes for the first shot on goal. Raúl is not the best choice for centre-forward, especially with the opponent's area as crowded as it was.

After the sending off, Schuster decided not to replace him with another defender to try to maintain an attacking formation. Though proved right, it was clearly not Robinho's day: he looked uninspired and even occasionally drifted from his wing to the centre, where he just got in the way. Guti, who earlier in the week joined the other 'lifers' in the squad, provided some class in the midfield, ably assisted by a much better performance from Sneijder, who not only raced back to prevent a rare Murcia shot on goal, but also took advantage of a defensive error to coolly put away the winner. At this point Schuster took off the ineffectual Robinho and brought Salgado on to assure the final result.

Real knew in advance that Barcelona had stuttered on their visit to Recreativo (with their minds more likely focused on the Champions League than the championship), and the win increased their lead to nine points. Following Villareal's loss away to Almería, this points difference remains and it will take a disaster of epic proportions for the league title to be won by anyone else.