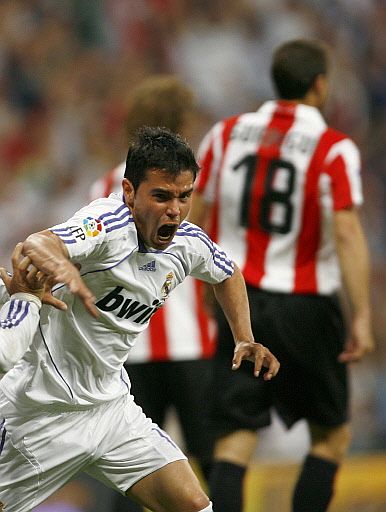 The number two features highly following the league results at the weekend: two points out of the next four games are all that Real Madrid need to clinch their thirty-first league championship. Two is also the number of teams still in the race, as Barcelona dropped out of contention after going 2-0 in Riazor against Deportivo on Saturday. Only Villareal now have a mathematical chance of preventing the Real faithful congregating at the Cibeles fountain in Madrid to celebrate victory and they need to win every single one of their remaining games (at home to Getafe and Espanyol, and away to Recreativo and Deportivo).

In fact, as Villareal's home game against Getafe will finish before Real's away tie in Pamplona (against Osasuna), the merengues could find themselves champions before they even kick a ball. They already knew before their game this Sunday that Villareal had denied them the chance of singing the alirón (a word of disputed etymology, but you could say it is the equivalent of singing "We are the Champions"). Though the Yellow Submarine had torpedoed Betis, the Madrid players nonetheless came out determined to show their mettle.

Schuster lined up Saviola from the start, allegedly because he'd been training well and had not had the chance to come on in previous games when he had spent some time warming up. More suspicious minds may conclude that Real wants to give him a bit of an outing to improve his selling price come the summer. Regardless, the diminutive Argentine showed flashes of his class in his first league game since December 1st and pounced on a rebound from the Athletic keeper to put Real ahead after 13 minutes.

If the final result looks like a comfortable win, it is fair to say that it was only possible through the acrobatics of Iker Casillas. He may claim a lack of interest in winning the Zamora trophy, but he put paid to Athletic's hopes of getting back into the game with a crucial penalty save in the first half, and two more excellent stops later on. Athletic looked deflated and Schuster brought on Robben and Higuaín part way through the second half to finish them off.

And finish them off they did. Higuaín sped down the right wing and threaded it through to Robben for a simple finish. Barely two minutes later, he got himself on the scoresheet by latching onto a throw-in and sending goalkeeper Armando the wrong way.

The omens, if you believe in omens, are good for next Sunday's game against Osasuna. Real have won in their last three visits and have not lost at El Sadar (or Reyno de Navarra, as it is now known) since February 2003. Should they win the league title there, their next opponents will make the traditional pasillo welcoming the champions onto the pitch of the Bernabéu in a game that's already sold out. The identity of their next opponents? Barcelona.