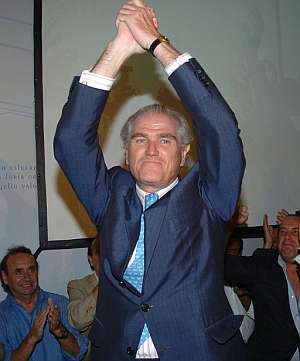 As if it weren't enough that his presidential victory is not yet legitimised as he awaits the judicial decision on the now infamous postal vote, Ramón Calderón now has to face his first serious internal crisis as two of the members of his board have resigned for reasons that have not yet been made public.

The rumour mill has already begun and one of the theories being put forward is that there is deep unhappiness at the lack of prospect of new elections to put an end once and for all to the uncertainty at the club. What seems more clear is that one of the resignations, that of Juan Carlos Sánchez, the director in charge of the basketball section, is related to the club's decision to sign a preliminary agreement with the NBA to acquire one of the planned european franchises should this happen in the future. It is thought that this agreement was signed without consulting Sánchez.

Other resignations may follow. If enough members of the boards do resign, Calderón will be forced to call for new elections whether he wants to or not, as stipulated in the club statutes.


[Update 12/12/2006@15:50]: The other board member to have resigned, Juan Mendoza, "clarified" the
reasons for his departure
, saying that while he retains the utmost respect for the club and he joined the current administration full of enthusiasm, he does not feel he has been given a position of enough responsibility to warrant his staying. In other words, he's annoyed that he has less influence than he thought he was going to have.