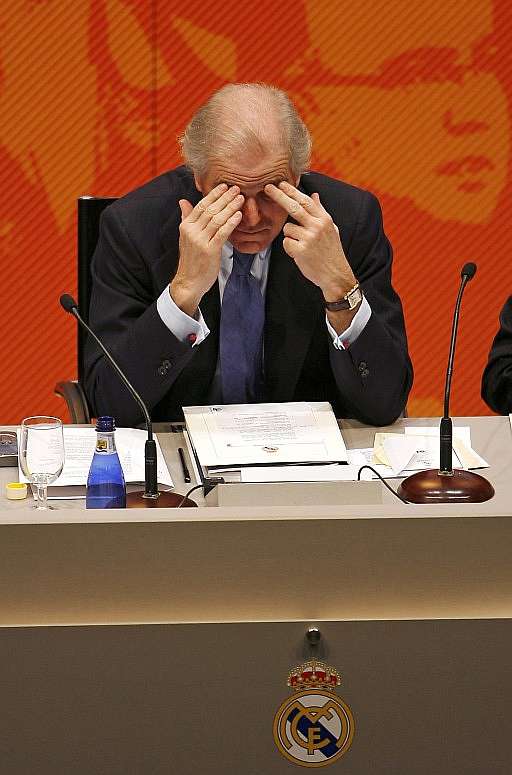 The longest Annual General Meeting in Real Madrid history (over 6 hours) did not result in the forcing of new presidential elections, as some had foretold, but also ended, finally, in a rejection of Ramón Calderón's proposal to reform the postal vote that has so dogged his presidency since July.

Around 1,000 socios compromisarios empowered to vote on behalf of the whole Real Madrid membership gathered to debate the items on the agenda. Although all the items were approved by a sufficient margin, the assembly was more notable for the constant stream of criticism towards the Real Madrid president, and by calls to reinstate the postal vote (suspended by a judge pending an investigation into allegations of corrupt practices by some of the candidates).

Ramón Calderón defended himself vigorously, saying that he had "no fear" of calling for new elections if the members so wished (however, no timetable was given for when this might happen, or how the membership could make its wishes felt).

He also hit back at those who "had plans to use the club for their own profit, although I did not think them so base as to attack my family, my wife, children and brothers. My financial status is simple and transparent; I'm not a millionaire, I have a house with a mortgage, and an office where I work as a lawyer. I was accused of employing my brother, but my brother did what brothers do, help me out. He has a temporary contract and his efforts have saved the legal department more than 400,000 euros. He cannot wait to get back to his own office, where he makes far more money".

At the end, the extraordinary session was convened to discuss the reformation of the postal vote. By this time, only around 300 socios remained to vote, with 193 voting against reform and 119 for it. Personally, I have no problem with Real Madrid members being able to vote by post, particularly given how extended they are throughout Spain (and some probably beyond).

It it the administration of this postal vote at the last (and previous) elections that have brought the name of the club into disrepute. As in all elections, transparency and honesty are paramount to ensure the wishes of the electors are carried out and that there is no scope for those wishing to undermine the democratic process to succeed.