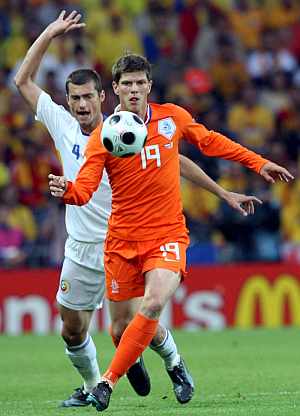 There are a number of traditions regarding the opening of presents for those who celebrate Christmas. The earliest presents are opened on St. Nicholas' Day on December 6th in Holland, Belgium, Germany, Czech Republic and some other European countries.

In most other countries, presents are opened on Christmas morning. In Spain, and some other countries with a Catholic tradition, the custom is to open presents on the feast of the Epiphany on January 6th, commemorating the visit of the Magi.

Whichever tradition applies, Real Madrid have bought themselves an early Christmas gift in the shape of Ajax and Holland striker Klaas-Jan Huntelaar. They will however have to wait until January 1st to open that present, when the winter transfer window opens.

It is of course only "coincidence", as Mijatovic insists, that this signing is being announced mere days before the club's AGM this Sunday.

Both Calderón and Mijatovic are expected to face heavy criticism at the meeting, particularly over their disastrous summer transfer policy where they sold Robinho to Manchester City to finance the signing of Cristiano Ronaldo from Manchester United. Coincidentally, the Portuguese winger was confirmed yesterday as the winner of the Ballon d'Or, making him the European Footballer of the Year.

Huntelaar was this year made Ajax captain by manager Marco van Basten, an important recognition for a 25-year-old. He is seen as both a short and long term replacement for Ruud van Nistelrooy, who is out for the rest of the season, but is carrying an ankle ligament injury himself which means he won't play again until after he joins Real Madrid in January. This led Michel Salgado to joke that "we even sign them injured" on Tuesday evening as the agreement was made public.

Earlier in the week Ramón Calderón had promised new signings to alleviate the raft of injuries to the squad, although he said that any winter signings would come to "help out, because we already have the good players up front: Raúl, Higuaín and Robben". Let's hope Huntelaar sees a bit more of the pitch than Saviola, for instance.

On the technical side, there's little question that Huntelaar is a valuable addition to the squad. He's a centre forward at heart, so he will need good service from the midfield players, reather than tracking back to get the ball himself.

However, the presence of so many Dutchmen in the squad should make his adaptation relatively straightforward. His goal record speaks for itself; last season alone he scored 33 goals in 34 games in the Dutch league championship.

Real Madrid will pay Ajax 20 million euros for his services, plus another 7 million depending on results. Huntelaar will be in Madrid for a medical on Wednesday and is expected to sign a contract until 2013.