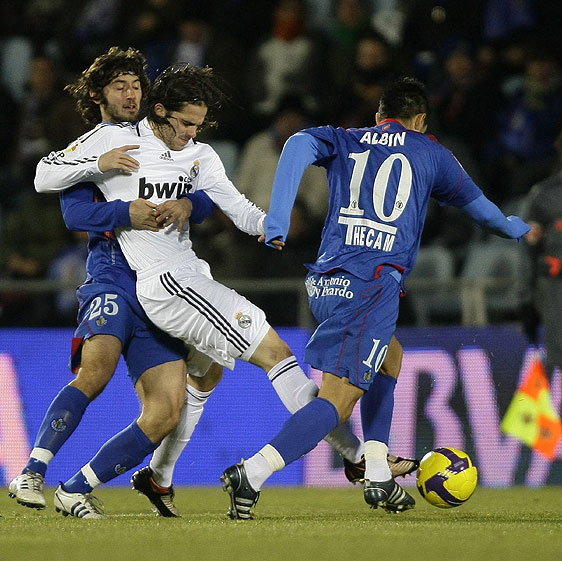 It's hard to win a game where they score against you in the first few minutes of each half, said Guti, summing up the impotence felt by Real Madrid at Getafe.

More importantly, it illustrates why the recent mini-run of two 1-0 victories (against Recreativo and BATE) was a mirage and bodes extremely badly for the next lot of league games against the top-placed teams.

The week has been somewhat overshadowed by Ramón Calderón's announcement that a couple of "young, promising" players will be signed in January when the transfer window opens, plus two top stars in the summer. Given that he's clearly trying to shield himself from the ire of the socios at the upcoming Annual General Meeting next Sunday, this really does very little for the current squad in the current season.

Add to this the plague of injuries decimating the side (Sneijder and Torres had to be substituted in the first half hour) and the next few weeks, or even months, look very bleak. The medical staff and physios have been added to the close scrutiny everyone else is under.

The Spanish league this season has been likened to the Tour de France, and December sees the Alpine stages as many of the "top" teams face each other. Next week, it's Sevilla, followed by Barcelona, Valencia and Villareal. Barcelona have already made short work of Sevilla with a 3-0 away win and look to be running away with the Championship. The shape that Real Madrid is in means that they'll struggle to compete for a Champions League place come next May.

Things have got so bad that Casillas had possibly his worst game in years. He looked insecure every time he came out for the ball and was particularly uninspired in Getafe's second goal. He even conceded a penalty that the referee did not see (or maybe he took pity on him).

And yet, even after going two down at the beginning of the second half, Real might have got back in the game as Guti found Saviola for his first league goal for his team. Getafe looked shaken for all of five minutes when Raúl could have equalised.

It was not to be (nor would it have reflected the relative merits of both sides). Eight minutes from time Uche made it 3-1 and means Real Madrid is losing sight of the leading rider as they are slowly absorbed into the ranks of the peloton.