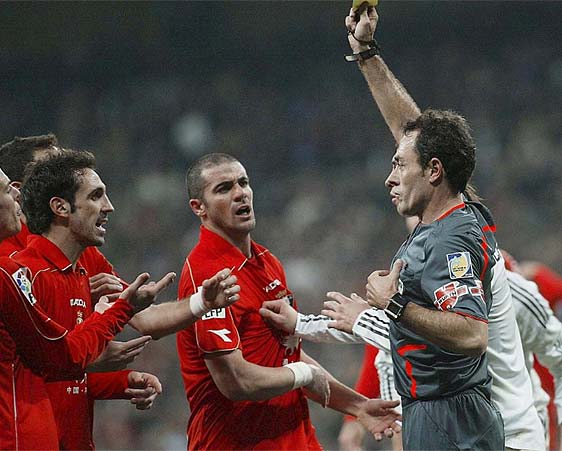 It's part and parcel of being a football fan: referees are either useless or they are conspiring for your side to lose. Well, I don't hold much stock in conspiracy theories, especially since the only way three people can keep a secret is if two of them are dead.

Osasuna supporters may well feel aggrieved at the way referee Alfonso Pérez Burrull dismissed their most influential player Juanfran with two yellow cards. Both came "for diving in the area" when TV images clearly showed that a penalty should have been given in both instances. To add insult to injury the referee told Juanfran as he gave him his marching orders that if he was "going to dive, at least do it properly".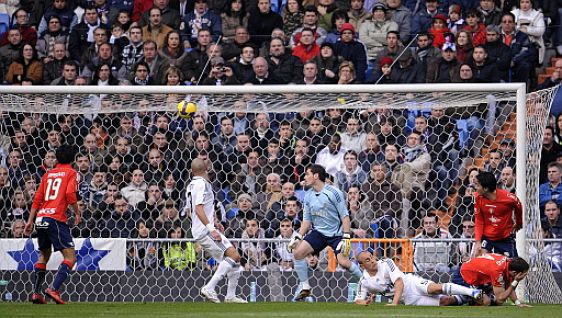 Real Madrid's first game under the new presidency of Vicente Boluda ended in a 3-1 win for the home side, the fourth in a row. However, it looks like the players have not been unaffected by all the goings-on at the club. With an unsuccessful penalty appeal under their belt, Osasuna still managed to go ahead after 19 minutes through Nekounam and managed to keep Real Madrid at bay for most of the first half.

After the break, Juande brought on Van der Vaart for Cannavaro and Huntelaar for Sneijder. This meant that Sergio Ramos had to move to the centre to cover Cannavaro's position and Lass filled in as right back, changing the formation from 4-4-2 to 4-3-3. Unorthodox substitutions perhaps, but it seemed to give impetus to Real Madrid who took a mere four minutes to equalise when Ramos (with a little assistance from Osasuna goalkeeper Roberto) thundered the ball in from outside the area.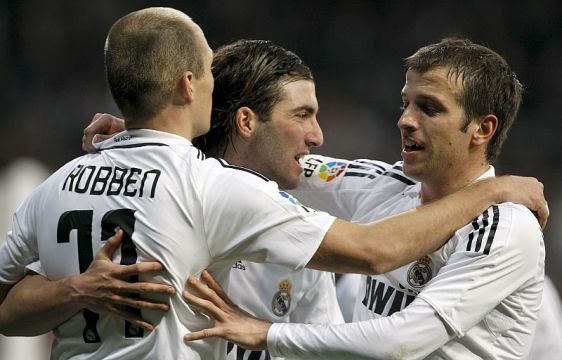 Had it not been for the referee, Roberto might have found himself the infamous protagonist of the game, as his suspect positioning made Real's task somewhat easier. Robben somehow managed to thread a pass (or was it a mis-hit shot?) through the Osasuna defence to Higuaín who put away his 12th of the season.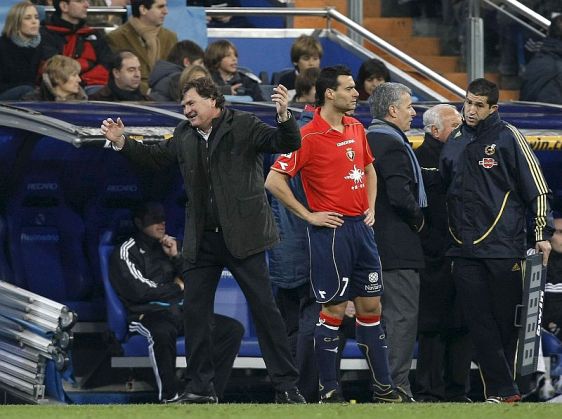 Osasuna, though last in the league standings, was not about to give up. Their manager, Camacho, a former Real Madrid defender and manager (though not for very long!) is known as a tough cookie and instils that attitude into each squad he manages. But even they could not fight against the referee's whims and their unfortunate 'keeper. In the dying seconds, Roberto completely missed a seemingly docile shot from Robben for the definitive 3-1 scoreline.

The referee's actions have gained him a great deal of notoriety in the Monday editions of the Spanish press and he has been withdrawn by the Referee's Committee for the Copa del Rey quarter-final between Espanyol and Barcelona on Tuesday. Less attention has been given to Pérez Burrull's report of fascist gestures from a small contigent of Real Madrid fans. If the new Real Madrid president wanted to make a good impression, he could start by clamping down on these undesirables.