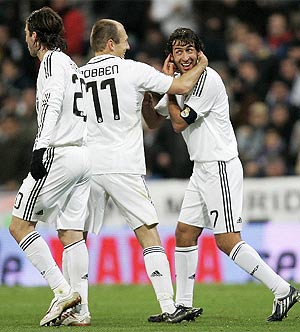 The Bernabéu "faithful" were treated to another night of tedium as Real Madrid edged Deportivo la Coruña by a single goal. What was remarkable was that they could not get worked up about the mediocre fare on offer when the average seat price is around €100.

On the other hand, they decided to greet the substitution of Raúl for Drenthe with audible booing for the young Dutch player. Drenthe later said that the reception made him "depressed" and it showed in his level of confidence on the pitch, where one of his attempts at running past Deportivo players ended with him slipping and falling.

Drenthe, as well as Marcelo, have recently been singled out for this sort of treatment by the piperos at the Bernabéu, so named for the copious amounts of sunflower seeds (pipas) they consume during home matches.

If this sort of behaviour is aimed at sending a message to the management to invest more in the youth teams, then it is poorly directed. The last thing these youngsters need (wherever it is they come from) is to bear the brunt of questionable strategic decisions by the club.

Towards the end of the reasonably entertaining first half, Raúl barely deflected a cross from Lass with the side of his head, but this was enough to fool the Deportivo goalkeeper. As the Madrid press are so fond of reminding us, this was the captain's 306th goal for the club, putting him just one behind the total scored by the legendary Alfredo Di Stefano.

The second half, however, must have convinced Barcelona that there really is no way they can lose the league now, even with another 18 games yet to play. How can Real Madrid be clear in second place in the league standings yet play so poorly on their own turf?

Juande Ramos decided to make the game safe and wait for the counter. With Gago and Lass making almost superhuman efforts in their defensive midfield tasks, the back four absorbing most pf the pressure, and Casillas stopping anything else that got through, it became clear how dependent Real Madrid is on Arjen Robben.

Any attack with any venom in it came from him. No wonder rumours still abound about Juande Ramos pleading for a winger before the end of the January transfer window. Real are still playing the price for the appallingly bad way that transfers were managed last summer.