On Wednesday he said that to resign would be "cowardly". On Friday, he resigned.

On Wednesday he had the full support of his Board of Directors. On Friday, they deserted him.

On Wednesday, he swore on his "honour" that he had nothing to do with the shady goings-on at last month's AGM. By Friday, those who took the fall were pointing the finger of blame in his direction.

Vicente Boluda, vice-president of Real Madrid, will take over as interim president until new elections take place in the summer, after the current season ends.

Ramón Calderón has had a turbulent few days, ending with his resignation as Real Madrid president. But he has been sowing the seeds of his own destruction from the moment he was elected: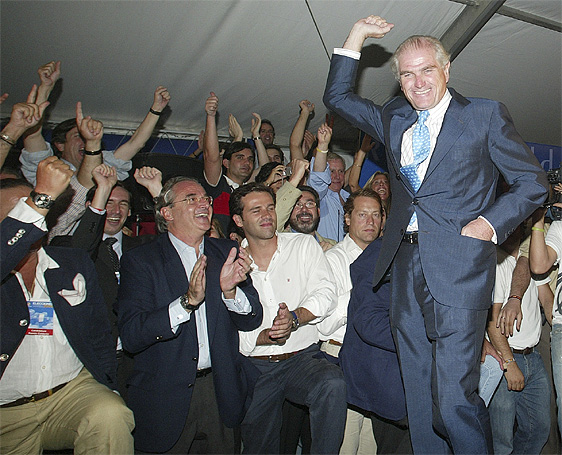 July 2006: Wins the presidential elections, promising to bring Kaká, Cesc and Robben to the club. Out of these three, he only managed to sign the Dutchman, over a year after the promise was made.

October 2006: One of the failed candidates for the presidency, Juan Miguel Villar Mir, takes the club to court to have the postal vote (annulled at Calderón's insistence) reinstated.

December 2006: Calderón's first AGM ends with a rejection of his proposals to reform the postal vote, amid calls by angry socios for new elections to legitimise the presidency.

January 2007: In probably the worst of his many foot-in-mouth moments, Calderón is recorded by a journalist as he makes a number of unflattering remarks about his players. He later has to apologise to the entire squad.

February 2007: After a number of court appearances, a judge rules that the Real Madrid electoral process, especially those statues regulating the postal vote, are invalid, and therefore the election result must stand. However, the process has, to date, not been reformed.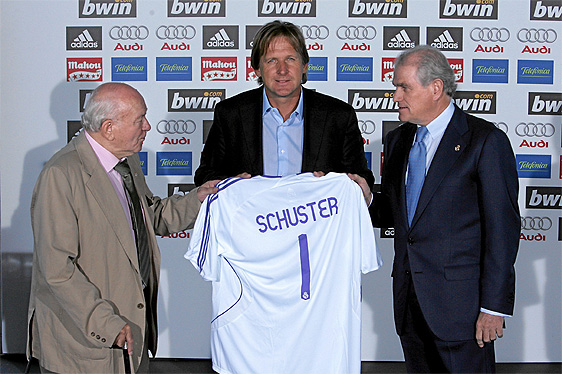 June 2007: Despite winning Real Madrid's first title for four years, Fabio Capello is sacked as Real Madrid coach. Two weeks later, Bernd Schuster is installed as his replacement, in what Calderón terms "a search for excellence". Well, we know how that ended.

September 2007: Another AGM, another failure to institute any meaningful reform.

March 2008: Calderón is accused by journalist José Antonio Abellán of manipulating the selection of socios compromisarios: Real Madrid members empowered to vote at AGMs on behalf of the whole membership. He had previously accused him of "selling" season tickets in exchange for votes at the presidential election. Neither allegation has yet been challenged in court.

May 2008: Calderón fails, once again, to reform the club statutes (which are, remember, legally invalid) in an Extraordinary General Meeting.

August 2008: After chasing him all summer, Real Madrid fail to sign Cristiano Ronaldo from Manchester United. Worse, the club sells Robinho to Manchester City and does not find any suitable replacement in time for the start of the season.

October 2008: Calderón is accused of using the club's credit cards to fund his own lifestyle. There is little substantive proof, but the allegations about the president's tax affairs are quite damaging.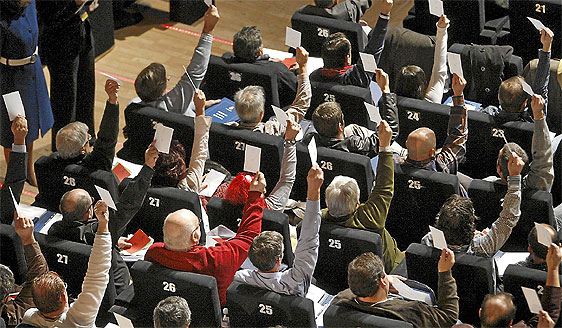 December 2008: Real Madrid sign two players in the winter transfer market, Lass and Huntelaar, only to find that UEFA rules mean only one of them can be registered to play in the knock-out stages of the Champions League. The youth director resigns and accuses the president of "lack of knowledge or interest in the youth teams". At the AGM, Calderón manages to have the accounts and budget approved, albeit with a slim majority, amid many calls for his resignation. He then fires the coach, Schuster, and replaces him with Juande Ramos.

January 2009: Marca publishes allegations of vote-fixing at the December AGM, finally resulting in Calderón's resignation as president. Allegations about fraudulent commissions in the signing of players like Van Nistelrooy and Cannavaro.