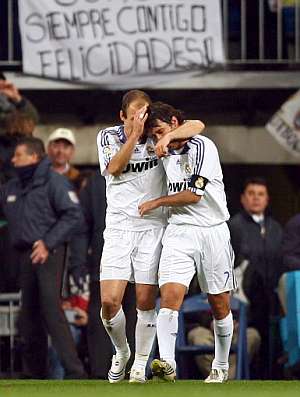 The Madrid press was all abuzz with excitement following yesterday's 3-1 defeat of Sevilla. What with Barcelona throwing away a 2-0 lead at Betis the day before, they are now touting second-placed Villareal as the ones to watch in the run-in to the title. Without taking away from what was a much improved performance, it is still far too early to clay claim to the title, especially given how irregular Real has been in 2008 (won 9, lost 9).

Although much is being made of Higuaín scoring at last, he only managed to put away one of at least three clear-cut chances, and his team-mates seemed to be losing confidence in him. Another much-mentioned anecdote is Raúl scoring his 290th goal for the club, putting him neck-and-neck with 70s and 80s legend Santillana and second only to the great Di Stefano (307). Howerver, the keys to yesterday's triumph lie in the great display from the back four (especially Cannavaro, who's come in for a lot of criticism in recent days) and the return of creativity in midfield from the likes of Guti and (yes, it's true) Sneijder.

Real had to start without Pepe through injury, but they barely missed him, and his replacement, Gabriel Heinze, not only ably supported Cannavaro in the rear, but also opened the scoring for Real with a header off a Sneijder free kick. The Dutchman added a second assist when he found Raúl in the area. The captain controlled the ball, jinked around two defenders and blasted it far from the hands of Sevilla keeper Palop. This came barely two minutes after Kanouté, in a rare attack for Sevilla in the first half, hit a beautiful volley to put the scores level.

On past performances, a one-goal lead wasn't going to be enough, even if it didn't look like it was going to be Sevilla's night. Half-way through the second half Sneijder found Guti, who played it back Higuaín, who finally managed to put the ball, and the game, away.

Real's 6-point lead over Villareal means the boys from the "Yellow Submarine" will need to accumulate at least 7 points more than the men in white, given the head-to-head results between both teams.