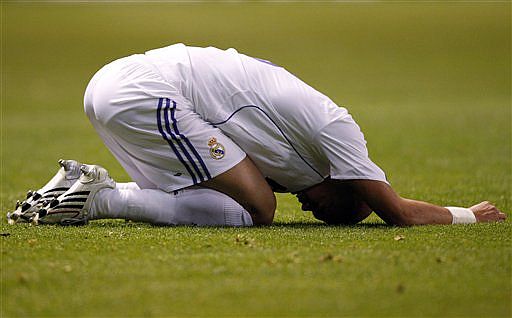 After a two-week hiatus (don't ask) I come back to this blog with the distinct feeling that I'm not going to enjoy what remains of the season. It may seem strange, with the team top of the League and with a seven-point cushion, but the feeling remains nevertheless. Some of this ennui may be attributed to Real's ignominious, though deserved elimination from the Champions League by Roma a couple of weeks ago. Enough time has passed that I can safely say it's not just the temporary disappointment of getting dumped out of Europe's premier competition, at the last-16 stage, for the umpteenth year running. The malaise runs deeper than that.

It's just that we're now left with 10 games in a competition, that, frankly, nobody seems to want to win. At Riazor, a venue that Real has not managed to crack in the last seventeen years, the visitors were undone by an own goal by Pepe. Ironically, this was Real's only shot on goal in the whole game; it's just a shame it was the wrong end. The previous week's effort, at home to Espanyol, was barely any more watchable, and victory was once again partly due to a dodgy penalty that Raúl put away for his 200th league goal.

So what's wrong? After all, this time last season Real was in the same situation vis-a-vis the Chmapions League and the Cup and with 14 fewer points in the league. I think the fault lies partly with unreasonable expectations, partly with Bernd Schuster's high-handed approach with the media which draws unneccesary contempt from many quarters and the pair of jokers running the club who don't seem to have the first inkling of a medium-term strategy.

By unreasonable expectatinoons I mean my own. We have become used in recent seasons to Real doing well, especially in Europe. And even when the play was irregular (as it was throughout the galáctico era), the team were almost invariable exciting to watch. All football goes in cycles, and Real is not exempt from this rule. In fact, I am convinced the period over the last 8-9 years of Spanish domination in European competition is well and truly over (UEFA coefficients notwithstanding), if it wasn't already the case last year, and England's Premiership has not only taken the lead, but is streets ahead of the rest. So maybe I should just grin and bear a few fallow years and wait our turn.

But the problems with the manager and the club "leadership" give little cause for optimism. Granted, this could have been sold as a "transitional" year, and the club's early domination in the league may have worked against that to some extent. However, the lack of any clear vision, of any style of play, does not bode well. If Schuster cannot be bothered to tell us what he's playing at and how he intends to lead this squad over the next couple of seasons, why should we be bothered to listen to him?