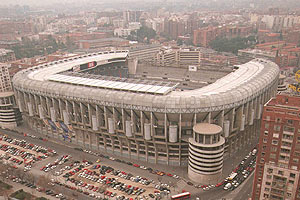 The UEFA Executive Committee, meeting in Vaduz, Liechtenstein earlier today, picked the Santiago Bernabéu to be the venue for the 2010 Champions League final. This will be the fourth time the stadium has hosted the final of the top European club competition, with the three previous occassions in 1957, 1969 and 1980. The 1957 final saw Real beat Fiorentina 2-0 in front of a crowd of 124,000.

This decision follows the addition last November of the Bernabéu to UEFA's Elite Stadium list. The other candidate stadia to host the final were London's Wembley, Munich's Allianz Arena, Berlin's Olympiastadion, and Valencia's Mestalla. UEFA president Michel Platini hinted that Wembley may have been passed over because of insufficient assurances that players competing in the final would not be taxed by the British government. Such taxes would not apply in Spain and the German government had assured UEFA that it would not seek to impose them. Perhaps this is also why the UEFA Cup final for 2010 was awarded to Hamburg stadium in Germany.

The 2010 Champions League final will mark a departure from tradition, as the game will, for the first time, be played on a Saturday instead of a Wednesday.