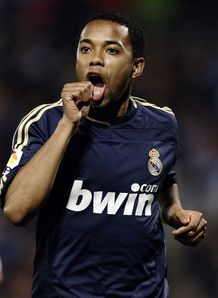 Robinho returned to the Real Madrid side in triumphant fashion as he rescued his team from a tricky situation in Huelva by scoring two goals in his 18 minutes on the pitch. The trip to the Colombino was no picnic, and Recreativo had the better of the play at times, belying their 18th place in the standings. In fact, they went ahead on 16 minutes through central defender Cáceres from yet another set play. It is a worrying trend, as the number of goals conceded by Real Madrid from this type of play in recent weeks seems to be on the increase.

Schuster played Baptista up front, just behind lone striker Raúl, given Van Nistelrooy's ankle injury, sidelining Soldado yet again, with Gago in Guti's usual role. While it's generally acknowledged that the absence of these two players is a blow to Real Madrid (last night saw far fewer shots on goal than recently) it is a fact that this season, Real has won every game where one or both of them have been absent. Until Raúl's offside goal on the half hour, Real barely showed any signs of getting into the match. The offside position was marginal, but it was only the start of referee Iturralde González's protagonism in this game.

To Beto's expulsion after 51 minutes for striking out at Heinze (though he was provoked by the Argentinian), the referee added that of Sergio Ramos 4 minutes later. Recreativo found themselves a man down after 68 minutes when Quique Álvarez hacked down Robben, putting him out of commission for about a month. While it's hard to argue with any of the sendings off per se, the heated atmosphere during most of the game owes much to the referee's general attitude and, dare I say it, incompetence. A referee commands respect from the players not because he has a pair of coloured cards in his shirt pocket, but because he controls the game from the very beginning and sets very clear expectations of the behaviour he expects. Erratic decisions are always seen as 'unfair', no matter who they benefit.

Thus it was, with Real's 10 against Recreativo's, that Robinho came on for Cannavaro (!) and he changed the tenor of the game from his first touch. His first came from a terrific finish after picking up a loose ball on the edge of the area. His second was a neat lob over the keeper after Gago found him unmarked with a pass Guti would have been proud of, right on the edge of normal time. Real still had time to sweat, as Martins pulled one back 2 minutes later with a curling free kick (yet another set play!) which beat Casillas, but it was too little too late. Barcelona's 4-2 defeat against Atlético in a match that was being played at the same time, puts Real's lead once again, at five points, but the alarms have been sounded, and this is by no means definitive, merely a slightly more comfortable cushion. Pepe returned in the final few minutes and finished unscathed, so he will likely start against Roma on Wednesday.

Schuster still had time to grab headlines for himself after walking out of the post-match press conference, annoyed at being repeatedly asked to comment on the referee's performance. Given that he's not been backward in coming forward when he perceives the referee has damaged his side's interests, many accusations of hypocrisy are being levelled at Bernd over this latest 'outburst'. I'd rather he shut up about the refs completely, but I suspect he will pipe up again when he feels like it.