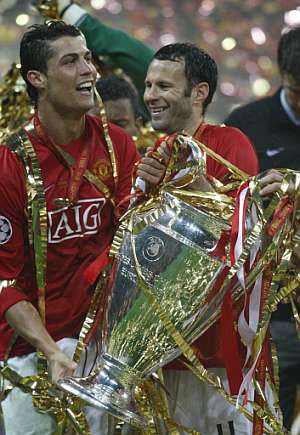 You cannot pick up an issue of either the British or the Madrid sports press without reading some story about Cristiano Ronaldo's proposed transfer to Real Madrid, each more outlandish than the last: 80 million euros, 50 million euros plus Ramos, Diarra and Robinho, 30 million euros plus a treasure map to the mythical Eldorado (only one of those is made up, by me anyway). It's getting increasingly tedious and with over 3 months left until the closing of the transfer window on 31st August, it can only get more so as the summer progresses. Regardless of the level of truth in these reports, the real question that should be posed concerning the motives behind such an environmentally unfriendly waste of trees and ink is: cui bono?

First and foremost, those who stand to profit either way are the press: it's in their interests to keep this going as long as possible, so people can keep buying papers in the lulls between seasons. Expect it to be particularly intense between now and the start of Euro 2008 on 7th June, and to pick up either immediately afterwards (29th June) or as soon as Spain is knocked out of the competition. However, while the press clearly manufacture stories to continue whipping up interest (the one about an official Real Madrid club car with some documents with Cristiano Ronaldo's name on them is particularly clumsy), there would be little to keep this going without the collusion of other characters adding their little bit of fuel to the fire.

The principal suspect in this is Cristiano Ronaldo himself (or his agent). Although he signed a new deal tying him to Manchester United until 2012 just over a year ago, his impressive season (he has scored a whopping 42 goals in all competitions) means he may be trying to capitalise and strike (no pun intended) while the iron is hot. His current deal at United includes an annual salary of over £6 million for the next four years. However, the recent Webster ruling means that he can leave in 2010 by compensating United for one year's salary if he doesn't renew his contract (under the rule, any player aged between 23 and 28 can walk away from his club, as long as he has served three years out of a four or five-year contract). Ale, at The Offside, puts it best with: "Ronaldo, as usual, spent his day frustrating everyone again with claims of 'I dream of playing for Real Madrid' and 'My head is in Manchester.' Just come out with it and say 'I want a new contract or I go to Madrid.' Problem solved."

Let's not forget however, that others may seek to benefit from all this media mayhem. Real Madrid, or to be more precise, president Calderón, has had a bit of a torrid time recently despite being at the helm of a side that's won back-to-back league championships. Add to that the fact that certain sectors won't let him forget that of the three players he promised as part of his electoral campaign two years ago (Robben, Cesc, Kaka), he has only managed to deliver one to Real Madrid. While he mounted an ultimately unsuccessful media offensive for Kaka last year, he may have decided to deflect attention by continuing to feed the press little snippets about how welcome Cristiano would be at Real Madrid.

Finally, and this may be a little bit of a stretch, Manchester United may be using the whole affair to keep the British press occupied while they quietly go about building up their squad for next season. They did well on the transfer market last summer by signing up a couple of highly rated Portuguese youngsters (Nani and Anderson) catching everyone else on the hop. I suspect however, that if this is happening, it's more of a case of taking advantage of the current situation than of the club trying to manipulate events. Alex Ferguson's recent tirade against Real Madrid is just the Scot being his usual prickly self (and there's plenty of non-Manchester supporters saying this is just a case of the pot calling the kettle black).

Ultimately, I believe this is all so much summer hot air. Real don't need Cristiano (certainly not at the prices being quoted) and Cristiano doesn't need Real Madrid: he has just won the Champions League with a relatively young side and would his international profile really be much bigger at the Spanish club? There would probably be more chance of Real launching a ridiculous bid for him if they had not won anything for a couple of seasons or if they were in the middle of presidential elections. As it is, their money would be better spent on reinforcing the squad and offloading some of the underperforming players.