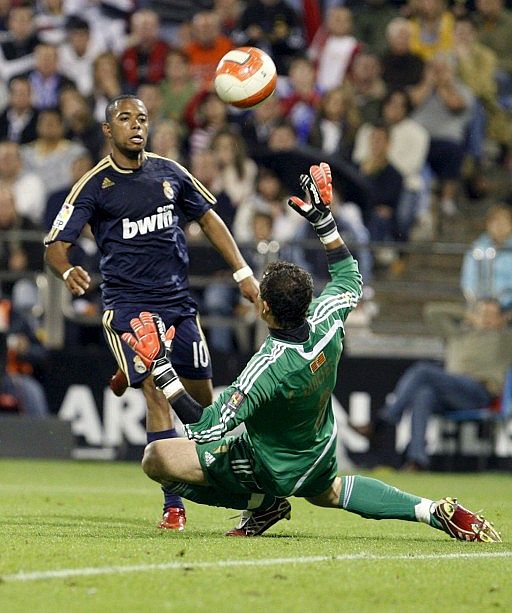 Real Madrid's clash against Zaragoza on the weekend could be the last of the season, at least for the team from the capital, as it emerged that next Sunday's match may not go ahead. The relegation-bound Levante players have decided to go on strike, as they have not been paid for several months, thus potentially spoiling Real's planned end-of-season party. For their part, the Zaragoza players have bigger problems to worry about, as the 2-2 draw with Real Madrid leaves them in the relegation zone. Their destiny, however, is still in their own hands, as a win away to Mallorca would ensure survival.

Schuster decided to leave both Raúl and Casillas, who had not missed a league game all season, as well as Pepe, back in Madrid to give some of the less used players a run-out. With Dudek in his first league game of the season, and Metzelder back from injury for his first of the year, the Real coach opted for an offensive approach which yielded plenty of chances for either side.

The Zaragoza players' desperation was evident, however, as chance after chance went begging, many of them thwarted by Dudek's spectacular reflexes. The Pole may or may not see out his second year of contract, but he proved himself to be an able substitute for Casillas (although his positioning wasn't always ideal). It's just that, barring injury, there will be precious few chances for him to occupy the goalkeeping position. The omission of Casillas in this game (and probably next weekend as well) guarantees him the Zamora trophy for the best goalkeeper of the season. This is an accolade he has not won in 9 years of trying and which has not been won by a Real Madrid keeper since Paco Buyo won it in 1992, a legacy, perhaps, of Real Madrid's obsession with attacking football.

Zaragoza opened the scoring after 19 minutes, with Sergio García, easily their best man on the night (even with the dodgy pony-tail), making short work of Marcelo on the wing and crossing it for Oliveira's simple tap-in. It was not to last: although Higuaín had a rare start, he did not manage to maintain his four-game goalscoring streak; instead he threaded it through for Robinho, who was denied in his one-on-one with the keeper, only for Van Nistelrooy to pick up the rebound: a typical poacher's goal. Robinho himself put Real ahead with a well judged lob with just over 10 minutes to go, leaving Zaragoza to stare into the abyss of Segunda División.

Their desperation showing may have moved some of the Real players to pity them, at least if you believe the As match report. More likely it was the difference between a side playing for survival against a side with little to prove. As it was, Zaragoza's insistence eventually paid off and Sergio Fernández's clinical finish made it 2-2, matching the scoreline from last year's fixture, leaving them with a chance to save themselves next weekend.