What some madridistas feared did not come to pass: Real Madrid came out to meet Barcelona with their minds fully on the task at hand and there was no indication that there was any residual hangover from the league celebrations on Sunday night. In fact, if anything, it was their rivals who looked a little lost at sea, though they had, in theory, more to play for. With Villareal's earlier win away to Recreativo, they needed at least a draw to have an outside chance at the runner-up spot.

Schuster lined up a strong midfield, with both Gago and Diarra on defensive duties, and Guti, Sneijder and Robben providing width and creativity up front, leaving Raúl as the lone striker. At the back, the reprieved Heinze (his booking was overturned on appeal) replaced the suspended Cannavaro in the centre with Pepe, and Ramos and Marcelo as right and left backs.


Rijkaard, with the threat of being sacked hanging over him all week, could not comply with Laporta's request of a 0-5 result that would see him "win a bet with a friend". Even that would probably not have been enough to save him; the days of a season being rescued by beating the 'auld enemy' convincingly are long gone. Worse still, the Barcelona manager must have realised his tactical line-up was leaking water everywhere and replaced Gudjohnssen with Giovani after a mere 23 minutes.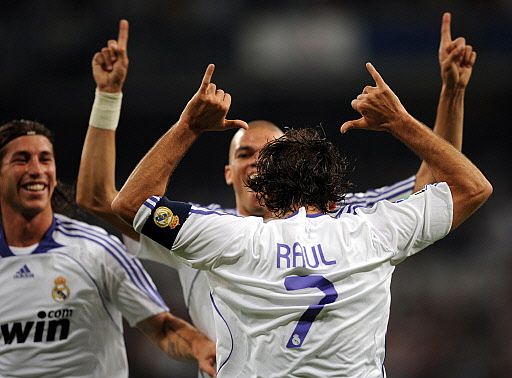 By this time, Real were already 2-0; the first through one player who loves the big occasion: Raúl, and the second from another Robben header, who seems to be making a habit of it recently. Though there was a foul by Guti on Márquez in the lead up to the first goal which the referee did not see, and a doubtful free kick award which resulted in the second, there is little doubt about the validity of the final result. Having said that, the referee was appalling and if Barcelona had been anywhere near Real's equal on the pitch, they'd be talking about his performance for years to come.


Higuaín came on in the second half for Robben and scored his fourth goal in as many games barely two minutes after coming on; the lad seems intent on answering his critics after being accused of having trouble putting it away. There was a nice return from injury too for Ruud van Nistelrooy who stepped up to take a penalty kick in the last quarter of an hour just after coming on for Raúl and put Real four up. The much vaunted "humiliation" of the pasillo before the start of the game paled into insignificance when faced with the real humiliation of a team on its last legs.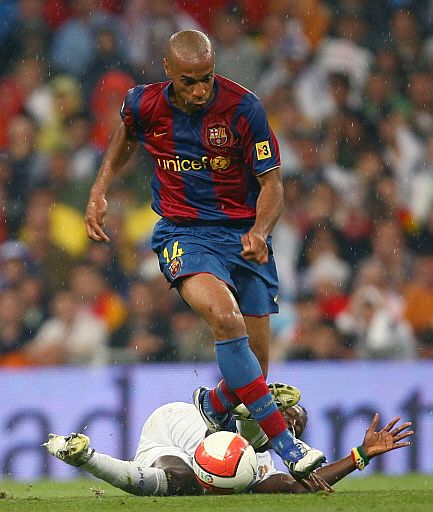 Henry's late consolation goal was more than enough reward for Barcelona's efforts on the night, marred by Xavi's sending-off in injury time. They are a team who've lost their way and will need to find it again before next season. The parallels with Real's galáctico decline (remember the Fantastic Four, anyone?), exemplified by a Ronaldinho-led 3-0 rout at the Bernabéu in November 2005, are obvious and a root-and-branch reform is needed. Twenty-five years have passed since the last time Real Madrid beat Barcelona at both home and away league ties. One wonders whether Laporta will survive the cull.