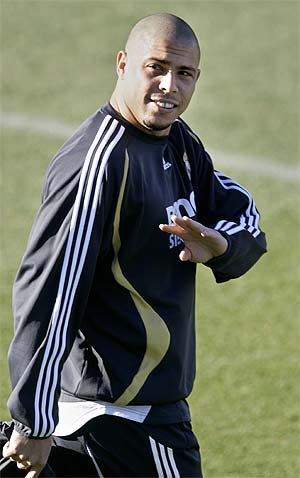 So it's finally goodbye to Ronaldo, the latest player to be treated in ignominious fashion as part of the Real Madrid New Year sales clear-out. It also marks the end of the galácticos, as he, together with Figo, Zidane and Beckham became known during the Florentino era. While it's hard to argue with the premise that Ronaldo is not the footballer he was, the timing of this deal does not reflect well on the management at the club. AC Milan reportedly offered 18 million euros to take him away in the summer, and are now getting him for a reported figure of between 7 and 8 million. Some rumours even go as far as to say that the money has been put up by the player himself, so desperate is he to get away from the "hell" that is working under Capello.

The current goal drought in the league also has numerous people remembering with nostalgia how many times "El Gordo" (together with Casillas) has saved the team's bacon (only to eat it afterwards - sorry, couldn't resist).

Capello himself has remained tight-lipped in recent days about the breakdown in his relationship with the player, although he has not called him up to the squad for several weeks. He did previously say that Ronaldo's attitude to training was "not great", a diplomatic way of saying he's lazy, and he's too old to rely on his extraordinary talent to get him out of trouble. One wonders how he'll fare in the more stringent defences of Serie A. Capello has hinted he'll have more to say "once he no longer wears the Real Madrid shirt". It is also rumoured that Ronaldo does not have a great deal of support from the rest of the squad, and that he's a bad influence on the young Brazilians Robinho and Marcelo (Roberto Carlos doesn't need any bad influences, by all accounts). He's not expected to say goodbye to his former team-mates.

It's probably time for him to go, and it's definitely time for the galácticos to either hang up their boots or take a back seat, but it would have been better if this had happened back in the summer (from a financial perspective) or at the end of the season (out of respect for his contribution to the club). It'll be long before we see his like again.