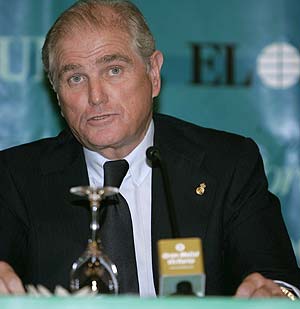 After Real Madrid's shirt sponsor, Benq Mobile, filed for insolvency in the New Year, it was only a matter of time before Ramón Calderón found a way to announce a replacement with as much fanfare as possible.

Initially, the plan was for the parent company to pick up the sponsorship contract, but the opportunity to renegotiate and present a bigger and better deal was too good to pass up. At the El Mundo forum in Mallorca, the current Real Madrid president spoke of his "pride" at resolving this issue in under a month and that a new contract, with figures "unimaginable" to other clubs, would be signed in the next week.

He took time to praise a number of the players in the squad, in a more measured manner than his attack of unbridled honesty the previous week. He also said his comments had been misunderstood and taken out of context and that the players deserved their salaries.

Calderón insisted that the decision not to allow David Beckham to play, even though he has 6 months left on his contract, is entirely a "technical decision". It's pretty clear to all and sundry that this was a ploy designed to force the player to cough up some extra cash to be released early.

Now that outcome's not looking likely, even Capello has let it slip that there may be a chance for Beckham to be involved in future games, especially as it's embarrassing to the club to be paying his large salary just for training with his team-mates.