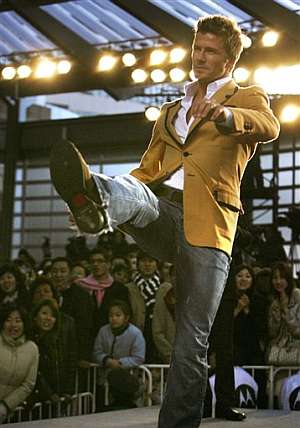 As of January 1st, David Beckham can quite openly negotiate with anyone he likes to determine where he will play from next season. There was no response from his representatives to the offer tabled by Real Madrid before the end of 2006 to renew his contract for a reported further two years, so his current situation remains the same: his contract expires on June 30th.

There are supposedly two obstacles to Beckham staying at Real: his lack of playing time and his image rights. Since the start of the season, he has played in 12 out of 16 league matches; however, in seven of those he came on late in the game as a substitute, and in two he started but was substituted himself. Reyes and Robinho have been playing in his position.

On the economic front, the club owns 50% of Beckham's image rights and he allegedly would like them back if he were to stay. There's little prospect of Real Madrid negotiating on this, even though his media profile may not be what it once was, as they are what makes him a profitable player to have on the books, as clearly, he is not a sporting necessity.

The question now is, will this saga be drawn out until the end of the season, or will we see some swift resolution in the next few weeks. Beckham has said very little publicly about what he wants (other than to be able to play), so expect the rumours of his being linked with numerous clubs (around 30 at the last count) to continue to fly until an announcement is made.