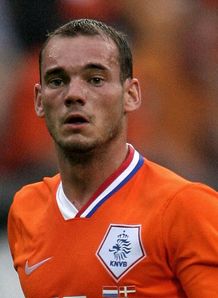 Matchday 2 of Euro 2008 has already seen some of the nations eliminated, while others have secured their passage into the knockout stages. At this point, we have not yet said a definitive goodbye to any Real Madrid players, although some have still not guaranteed their place in the quarter finals:

Pepe (Portugal): no goals this time (though he did come close on one occasion), but another solid performance in central defence alongside Chelsea's Ricardo Carvalho. However, the Portuguese back four did look uncomfortable dealing with the balls crossed into the area by the Czechs; one such action resulted in Sionko's equaliser, though ultimately it proved irrelevant.

Metzelder (Germany): missed a good chance to put Germany back in the game against Croatia with a header from close range that went just over the bar. He was not particularly at fault in either of Craotia's goals although the whole German back four looked slow and pedestrian in this game and a lot less impressive than following their opener against Poland.

Cannavaro (Italy): though he's injured for the whole of the competition, it is clear Italy are missing him, after conceding an almost unprecedented four goals in their first two matches and teetering on the verge of elimination.

Sneijder (Netherlands): man of the match once more for his contribution to the Duthc midfield dominance, Wesley once again found the back of the net with a top drawer finish from outside the area. If the Dutch get far in the knockout stages, as most pundits are predicting based on their form thus far, Sneijder may win the Player of the Tournament award.

Robben (Netherlands): though he was expected to be off for a few days longer following his pre-tournament injury, Arjen Robben came on as a cubstitute at the start of the second half against France and helped his team-mates turn the tide decisively in their favour. First he provided the assist for Van Persie's goal which doubled the Dutch lead, and then he followed it up with a goal out of nowhere to make it 3-1 and take the wind definitely out of France's sails.

Van Nistelrooy (Netherlands): no goals against France, but plenty of chances, and his constant incursions in the opposition area gave the defenders plenty of headaches and his team-mates more room to manoeuvre. Still a key piece of the Dutch attack, though he may be rested in their third group game as they have already secured first place.

Casillas (Spain): precious little work to do all game (and virtually none in the second half), Iker had little chance to stop Ibrahimovic's strike which put the sides level.


Sergio Ramos (Spain): a slight improvement on the first game, but still imprecise in some of his passing. His penchant for attacking down the right flank left his flank uncovered in a couple of occassions as he struggled to get back in time to head off the Swedish counter-attacks. He has to shoulder some of the responsibility for Ibrahimovic's goal as he returned late to his position and then did not manage to get a tackle in.