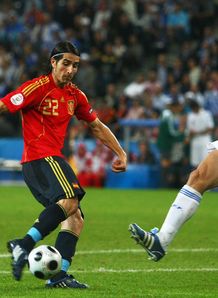 Though half of the national sides taking part in Euro 2008 have now been eliminated, all of the Real Madrid players who started the tournament have booked their ticket to the quarter finals with varying degrees of brilliance. Rubén de la Red, back from his season-long loan at Getafe, and still a Real Madrid player (it's not yet clear whether he will feature in the transfer market this summer) made his debut in the tournament with a goal against the Greeks.

Pepe (Portugal): Scolari made eight changes to his starting line-up having guaranteed first place in the group after the first two games and promptly went down 2-0 to co-hosts Switzerland, who were playing for honour only. Though Pepe had little blame for the two goals, it was clear the whole squad was not as 'switched on' as in the previous games. Whether this has anything to do with Scolari's announcement that he will be joining Chelsea after the tournament ends, remains to be seen.

Metzelder (Germany): barely any improvement over the previous match, although it has to be said that Germany had a particularly pedestrian game against Austria as a whole. The two German central defenders have been shown up time and again by fast moving opponents, although they seem to be solid from set pieces and aerial balls. They need to take it up a notch or two if they are to progress beyond their quarter final game against Portugal.

Robben (Netherlands): played just over an hour of Holland's inconsequential game against Romania, which they still managed to win 2-0 despite resting most of the starting 11. Arjen Robben wasted a good chance in the first half from a Huntelaar flick-on by poking his shot wide. Somewhat imprecise in some of his passing, he may not have done enough to get a starting spot in the quarter finals.

Sneijder and Van Nistelrooy (Netherlands): were rested and did not play against Romania.

De la Red (Spain): after a fairly unimpressive first half, in which he missed a chance to put Spain ahead against Greece, he picked up his game in the second half with a tremendous strike that gave Nikopolidis no chance. The goal seemed to give him added confidence and his passing improved significantly, although it is unlikely he will be picked over any of the members of the starting 11.

Casillas and Sergio Ramos (Spain): were rested and did not play against Greece.