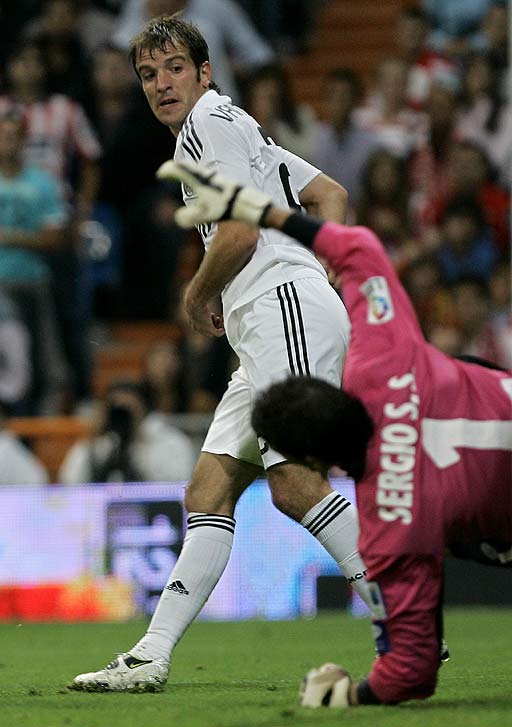 Poor Sporting de Gijón. Ten years out of the top division and on your return you have to face Sevilla, Barcelona, Real Madrid and Villareal one after the other in your first five weeks. On Sunday, Barcelona put 6 past them and on Wednesday night Real Madrid went one better, making them the worst defensive side in La Liga in over 50 years.

Given the packed nature of Real's fixture list in September (they face Betis on Saturday and then Zenit on Tuesday in the Champions League), Bernd Schuster decided to give Ramos, Heinze and Van Nistelrooy a rest. With Guti injured, De la Red and Van der Vaart took over the offensive midfield, and the Dutchman took his chance with gusto.

After a tentative first quarter of an hour, Van der Vaart latched onto a delicate header from Raúl to put the first goal past the hapless Sergio Sánchez. He followed this up fifteen minutes later with a spectacular backheel as De la Red's pass had ended up too far behind him. He completed his hat-trick two minutes into the second half, with Raúl once again providing the assist, and is now the league's leading goalscorer with four.

In between these goals, Higuaín notched up his second goal of the season, courtesy of a great cross from Robben. The Dutch winger got Real's fifth of the night himself and then had his shot off the bar picked up by Raúl for a simple tap-in for the sixth.

The captain celebrated his first goal in official competition since last May by scoring another, this time with a beautiful lob while running full-tilt at the keeper. It was noticeable that in both his goal celebrations he kissed his wedding ring, as he used to do before last season, when he decided to point to his shirt number (7). Given that this did him no favours in getting picked for the Spanish national team in the summer, perhaps he's wisely decided to go back to a more subdued type of celebration.

The 1,500 Sporting supporters in the Bernabéu did not cease to support their side all the way to the final whistle. They certainly get a '10' and must be lauded as an example to the vast majority of the football fans in Spain, most of whom never travel to see their side play.