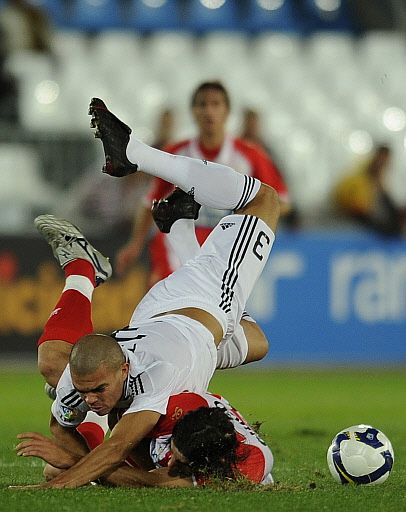 Real Madrid put paid to a lacklustre last few games with a draw at Primera División newcomers Almería (this is only their second season ever in the top flight). This leaves them still lying in third place in the league standings, two points behind leaders Barcelona, who have had a particularly impressive run of form recently, scoring fifteen goals (including five against Almería) in their last four encounters. Almería's late equaliser left Real feeling like they'd "let two points escape", as Bernd Schuster put it.


It was a particularly tedious first half, with no shots on goal from the local team, and not much more from the visitors. The only bright spot was Raúl's goal, which came from a great bit of skill from Higuaín on the wing, crossing the ball for the captain to deflect it past the keeper in a diving header. It was Raúl's first goal away from the Bernabéu since the one he scored against Racing Santander last April and his fifth in the league so far.

If anything, the second half was even more depressing from a Real Madrid standpoint, as the players (and coach) obviously had their minds on the clash with Juventus on Wednesday and decided to "secure" the win. Inevitably, this led to a lack of depth (to add to the general lack of width in the side), with lots of losses of possession. Almería grew in confidence and self-belief as the half wore on, and it was only a matter of time before they scored.


Sergio Ramos, who had otherwise had an acceptable game, gave the ball away with a header into no-man's land. A lightning-quick move from Almería caught him and the other defenders napping and gave Casillas no chance. Almería even had the chance to walk away with all three points, and it would not necessarily have been an unfair result.


To add insult to injury (or should that be injury to insult?), Pepe limped off three minutes into the second half and is doubtful for Wednesday's Champions League game. Another player certain of not being selected is Rubén de la Red, who fainted in Real's midweek Copa del Rey clash and who is out for an indefinite period until the doctors can determine what caused his loss of consciousness.

All in all, this game is best forgotten. One hopes that Real has plenty more up their sleeve against a Juventus finding their form, otherwise their chances of qualifying for the Champions League knockout stages (not to say anything about getting further in the competition) may be in jeopardy.