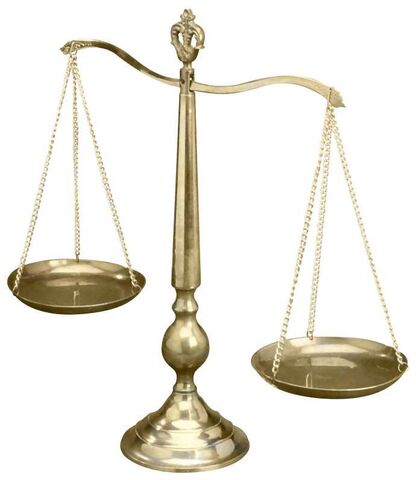 It's obvious, but perhaps it needs to be stated from time to time, and Xavi, the Barcelona and Spain midfielder put it succinctly the other day when he said that "
Barça and Real are like a set of scales, when things go well for one, they go badly for the other, and viceversa
".
Just think back six months: Real Madrid were running rampant in a league championship they eventually won with an eighteen-point lead over Barcelona. When the Catalan club visited the capital, Real had already won the title and the Barcelona players had to do the traditional
pasillo
.
Key players like Eto'o were accused of forcing a yellow card in their previous game so they wouldn't have to face the humiliation in Madrid. Barcelona went on to lose the game 4-1. Club president Joan Laporta had to face a motion of confidence, which he
narrowly defeated
.

Fast forward to the last few weeks and you can see the scales have truly tipped. After six wins on the trot in September, Real Madrid have lost both Champions League ties against Juventus, been dumped out of the Copa del Rey by a third division side, and have managed just three wins in their last six league games, conceding ten goals in the process.

Conversely, Barcelona are riding high, with a five-point lead at the top of the standings, and a truly breathtaking start to the championship. They have scored thirty-six goals in eleven games and Eto'o is the current pichichi with thirteen. Confidence is clearly with the men in red & blue as the two sides look to their first meeting of the season in mid-December.

It's always been thus, but the roots of this particular debacle can clearly be traced to the disastrous way Real Madrid managed their summer transfer campaign. Having won the league early, and being in the enviable position of planning for the coming season with several months in their back pocket, they decided to base their entire strategy around the signing of one Cristiano Ronaldo (remember him?).


Ramón Calderón has always felt the long shadow of his predecessor, Florentino Pérez, and his failure to match the galáctico-signing antics of the Florentino years has always weighed heavily on this much-criticised president. Only yesterday, he hit out at Florentino's being photographed at a charity match organised by Zinedine Zidane: "It's sad. I would have loved to have seen that photo when we won two league titles and the supercopa. It illustrates that badly kept secret that he has spent the past two-and-a-half years obstructing and trying to discredit the Real Madrid board. He only thinks of his own personal gain."

Calderón must have reasoned that the only way to make people forget about Florentino was to secure the services of one of the most sought-after players in the world. Well, we all remember what happened, which is that not only did Real Madrid not manage to sign the tricky Portuguese winger, but they also managed to enrage their most creative player (Robinho) to such an extent that he upped sticks and left them for Manchester City.

In all of this, Mijatovic has aided and abetted his boss, and Schuster claims to have been a mere spectator. However, while he may have a strong case to claim he has been handed an unbalanced squad, and taking into account a number of injuries in key positions, Schuster still cannot expect to be seen as purely innocent.

There is no excuse for conceding six goals and being eliminated from the cup by a third division side, not with this squad. There is no excuse for claiming he has "no idea" why his side is letting in a record number of goals.

We knew what we were getting when Schuster was signed. He's always been temperamental and difficult with the media, but when you barely get involved in a game you're losing and then go AWOL for several days without explaining what your strategy is to get the team out of the mess it's in, then, frankly, it's all downhill from there.


So the recent vote of confidence in the coach from the Real Madrid board is as convincing as Mijatovic's press conference to announce it. Fielding a question about what would happen if Real lost again this weekend at home to Recreativo, he avoided saying that the result was not linked to Schuster staying at the club: "I can't be certain as to what would happen. We would have no problem in taking difficult decisions if we have to, but we won't rush into them".

We just need to keep watching to see whether the scales have any further to tip before they start heading back the other way...